Posted
October 30, 2013 by Gavin Hoey
in Articles
Perfect Photo Suite 8 First Look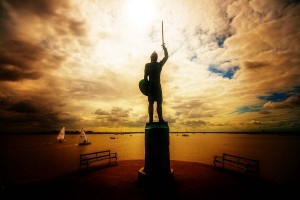 There's no shortage of plugins for Photoshop, Lightroom and Elements and many of them can really help get the most from your photos. For years I've been really happy with Nik Software and Color Efex Pro 4 has become a standard part of my workflow, I even did some webinars for them. The problem is, since Nik was sold to Google in late 2012 there's been little news of upgrades, improvements or even minor tweeks and that's a shame. At the moment it feels like Nik Software is just going to be left to fade away gracefully.
So I've been on the hunt for an alternative. Something that does the things I can't do in Photoshop and makes it quick and easy too. Enter Perfect Photo Suite 8 from onOne software. You can download the free public beta here.
Alternatively if just want to dive in you can Pre-Order Perfect Photo Suite 8 here
I've been using the public beta version of Perfect Photo Suite 8 for the past few weeks and my inital reaction has been really positive. It does the things I do with Nik such as enhance detail in a way not possible with Photoshop and it has an excellent black and white conversion section. In fact because it's a complete suite you could use it as a standalone photo editor or do as I do and use it as an extra add on to my Photoshop work. That does mean I don't use modules that replicate what I would do in Photoshop but the Perfect Effects and Perfect B&W are getting plenty of use.

OnOne Software have just launched a free to try version of Perfect Photo Suite 8 Beta 2 so my advice is to download a copy and give it a spin. Do keep in mind that it is a Beta and that means they'll be some bugs, not everything will be 100% working and the final version will be better.
I'd recommend jumping in and trying the Effects module first (File – Automate – Perfect Effects). The example above made use of the sunshine effect to add a warm glow to the image but the thing that caught my eye are the clarity style adjustments. Things Like HDR, Dark Contrasts and Dynamic Contrast are already shaping up to me some of my favourite features. There's even an effect called Grunge… How can I resist that! All the effects come with a bunch of presets which are previewed on adjustable sized thumbnails. You can also take control with the sliders to create your own style and save it for future use.
If you do give it a go I'd be interested in hearing what you thought, especially if like me you're a user of Nik.