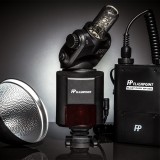 Flashpoint Streaklight 360Ws
So you want all the brightness of a studio flash without the restrictions of mains power, what do you do? Well you could choose the battery powered Prophoto B1, Elinchrom Quadra's or buy 4 speedlights and group them together. Either way you're looking at a pretty heavy hit on the credit card. Step forward the Flashpoint Streaklight 360Ws, a battery powered flash that produces about the same amount of light as 6 top of the range speedlights.
For the purposes of clarity I'm reviewing the Streaklight 360Ws from Adorama but you can also find the same unit wearing various other badges. For example here in the UK you'll find what appears to be the same unit at Lencarta under the name Atom 360. You can also find it's baby brother the Streaklight 180Ws which is broadly similar but produces a stop less light or about half the brightness.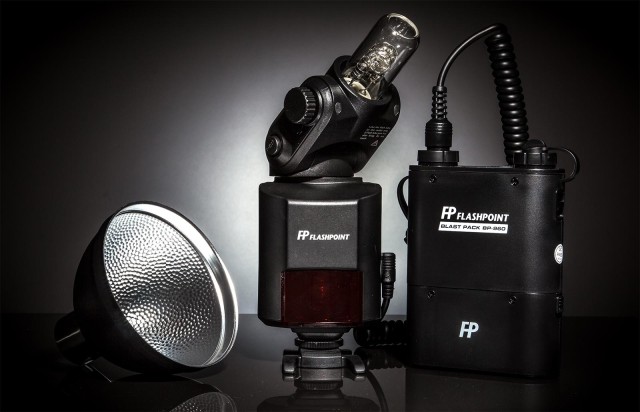 So what's so special about the Streaklight 360Ws? Well let's start with the obvious one, its power. At 360 watt seconds of light, it's up there with the power of mains studio flashes and yet it's little bigger then your traditional speedlight.
What's in the box?
Everything was nicely encased in Polystyrene with minimal amounts of assembly required. The flash has a standard hot shoe but this can swapped out (by removing four screws) and replaced with supplied ¼ in thread base, a very handy feature. A 28mm reflector is included as standard and there's also a clip-on diffuser too.
The flash tube is user replaceable and needs to be pushed in before use. There's also a small drawstring bag for storage although if you plan to keep the reflector attached (to protect the tube) it's of little use. You also get a cord to attach the 360Ws to a power pack (available separately). The connector into the 360Ws is propriety but the other end is just a standard power pack round plug affair.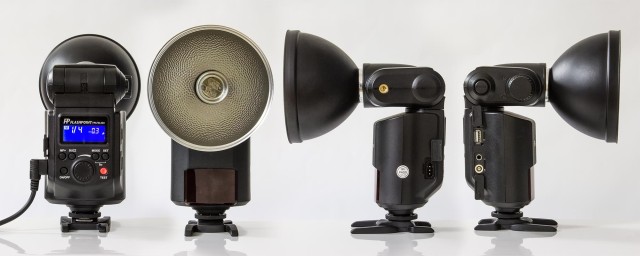 Performance
At 890 grams this is no feather weight so you'll need a decent cold shoe to hold it securely. Switching on the battery pack also starts the 360Ws and the first thing you'll notice is the big bright LCD display. The controls are well laid out and easy to master even without reading the manual. There's buttons to switch the focus assist light on/off, activate the recharge ready beep and set the mode for optical slave, preflash ignore and so on. The test button glows when the flash power has recycled and in the centre is a large jog wheel to set the power.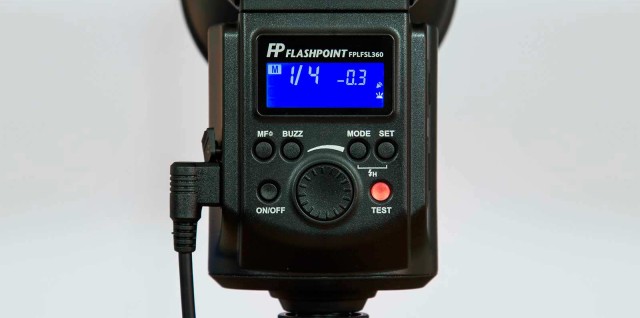 The 360Ws is a manual only flash, so you won't find a TTL options here. However like many photographers that's exactly how I like my flashes to work and resent paying extra for features I don't need. Flash output is in 1/3rd stop steps from full power down to 1/128th power.
At full power the recycle time was a painful 5.3 seconds. That dropped to 0.8 seconds at ¼ power and was almost instant at 1/16th power taking less the 0.1 seconds. If you plan of using this flash at full power regularly I'd highly recommend the optional power doubler cable which halves the recycle time by making use of two power ports.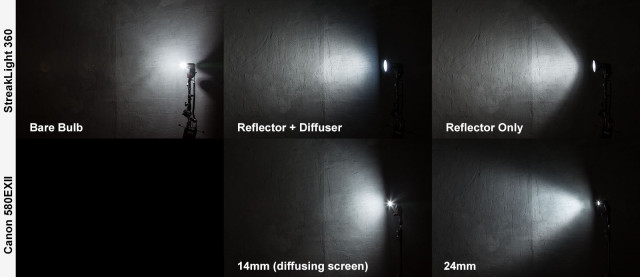 One of the big selling points of the 360Ws is its bare bulb. I've used the flash in a Westcott Apollo softbox and the bare bulb gives a fantastically even illumination. As you can see from the image above you'll want to use the reflector to get direction if you're using an umbrella or just the flash on its own. Compared to my Canon 580 EXII speedlight the 360Ws has a slightly warmer light that's more even across its width. It also seemed a lot brighter but by how much?
With a flash meter set at a distance of 100cm from both flashes I measured the light at various powers.
| | | | |
| --- | --- | --- | --- |
|   | 1/1 Full power 100 ISO | 1/8th power 100 ISO | 1/128th power 100 ISO |
| Streaklight 360Ws | f/51 | f/20 | f/4.5 |
| Canon 580EXII | f/22 | f/11 | f/1.6 |
I had to look f/51 up but to save you the bother that's around 2 ½ stops more light then full power on the Canon, or to put it another way it's the equivalent of 6 Canon 580EXII at full power.
Triggering the 360Ws can be done in many ways. There's a built in optical slave, a PC sync socket and a 3.5mm jack. There's also a USB socket which is used to attach the custom made wireless trigger. It's an optional item so I won't dwell on it but it's worth saying that I have one and it's utterly brilliant, if a little bit plastic feeling.

Downsides
Well there has to be some minus points and whilst there not huge they may be very important. Let's start with the biggest. If you're coming from studio flashes you'll instantly miss having a modelling light. By design the 360Ws is more speedlight then studio head and whilst an LED modelling light would be amazing it's not an option.
Another potential problem is the lack of a speedring. Again, speedlight workers won't be worried about that but studio flash users will need to replace softboxes, grids and beauty dishes with alternative options. I've switched to the Westcott Apollo style softboxes with great success. There's also a decent range of small accessories that will fit straight on as the 360Ws shares the same fitting as the Quantum Qflash.
Then there's the power. No mains cable to trip over or limit your use is great but the battery pack is as big and heavy as the flash itself. My solution is to hang it from the light stand where it acts as a counter balance at the end of my boom pole.
Finally there's the promised high speed sync which doesn't work unless you have a supported radio trigger and that doesn't include the streaklight's own USB radio trigger!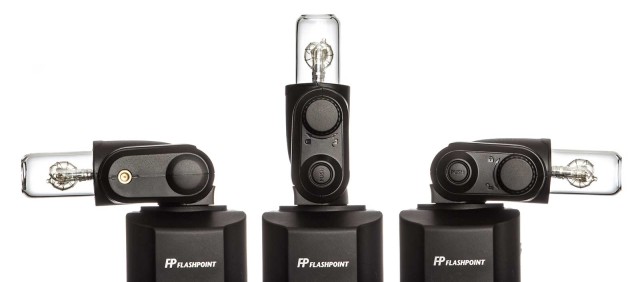 Conclusion
If, like me, you can live with the downsides the Streaklight 360Ws is an incredible flash at a very reasonable price. The power that comes out of this tiny unit is just amazing and at full power there's a very satisfying pop. When I first got my hands on the 360Ws I wasn't sure how we would get on but within minutes of using the flash my old speedlights looked like toy flashlights and my mains powered studio strobes suddenly felt very dated. In short it's now my go to lighting tool and there's no way I'll be giving this one back! Did I mention the fact that it also has a fast flash duration? Perhaps the best way to conclude my thoughts is to say I liked the Streaklight so much I ordered another one!