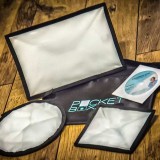 Pocket Box Softbox kit ~ Review
To be completely accurate this is a review of the Westcott Erin Manning Pocket Box Flash Softbox Kit which is a big name for a small softbox. We'll come back to the Erin Manning connection later in this review but to begin with let's take a look at what you get for your money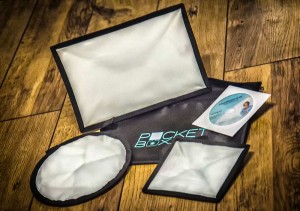 What's in the box?
The softbox kit contains a total of three softboxes in various sizes and shapes. They all attach directly to any speedlight without the need for any special fixings. You also get a storage bag to keep them clean and safe as well as an instructional DVD with videos starring Erin herself.
Features
You get a choice of 9 inch round, 9 inch square and a 13 inch rectangular box to choose from.
All three pocket boxes feature a brilliant way to attach to your flashgun. There are no naff velcro pads to stick on your precious flash here, all the Pocket box softboxes attach to the speedlight with a combination of rubberised flaps and elasticised strap. The end result is a very secure fit indeed.
There's one more neat feature that's common to all three softboxes. Inside each Pocket box is an inner diffuser which helps spread the light evenly across the front surface. It's also removable if you prefer to shoot without it, although I'd recommend it's left in place for best results.
Performance
Let's get this out of the way early. If you're looking for a mobile version of a studio softbox you're going to be disappointed with the results here. Even the biggest pocketbox is only 13 inches (33cm) long and when it comes to soft light, bigger is better.
However if the things you're lighting are small this could be the perfect kit for you.
The Pocket boxes all feel very well made, fold flat for easy storage and do the job they are designed for extremely well. Although they fitted fine on my Canon 580EX whilst on camera, they worked far better when the flash is off camera.
All three sizes are small for portrait use and in practice the only obvious difference from each was the shape of the catch light in the eye. None of them produced a portrait with anything that you might call soft light and although the results were better then the bare flash, you can't expect softly lit portraits from these little guys.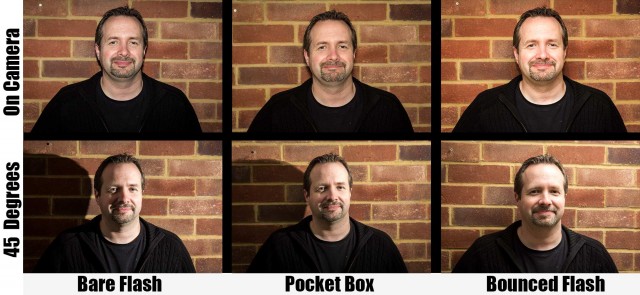 However when it comes to close up and macro work, these softboxes were brilliant and produced soft directional lighting and should be high on any macro workers "must have" list.
Erin Manning DVD
You can't miss the Erin Manning branding on the box although, I'm not to  familiar with Erins work. The instructional DVD runs for a little over 30 minutes and covers the basics of the Pocket box's and a few shoots which produce perfectly fine, although very uninspiring, results.
If you're a beginner in flash work you may get some insight on how to use the pocket boxes with Erins help but as all the shoots are portraits I'm not sure it shows the best use for these small light modifiers.
Conclusion
If you're in the market for a small softbox then you really can't go wrong with the Pocket box's. Great build quality and a choice of three shapes makes these a brilliant choice.
However it's worth remembering that diffused light is not always the same as soft light and that's often what photographers are hoping for when they buy a softbox.
You can also buy each Pocket Box individually, so if you don't need three then buying just one makes a much better buy.