Posted
December 11, 2012 by Gavin Hoey
in Articles
Adobe "Create Now" Live
Are you around today (11th Dec 2012) at 6pm UK time? Do you want to find out what's coming to Photoshop? Do you have a creative cloud subscription? If the answer to one or more of these questions is yes, then read on.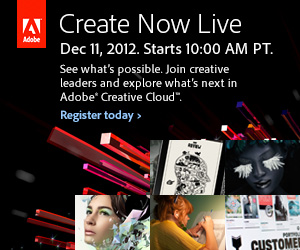 When Adobe launched their Creative Cloud subscription service they promised that they would release any updates to Photoshop (and other Adobe software) to creative cloud members first. Well it would appear that they're about to come good on that promise.
What will be announced is still under wraps but they've lined up some guest speakers to talk us through them. Chief amongst them is Photoshop guru, Scott Kelby.
To watch live you'll need to first register here: http://www.adobeeventsonline.com/createevent
The start time is 6pm UK time, 10am PST, 1pm EST.