Industrial Template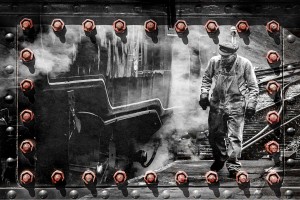 This weeks Friday Freebie is an industrial style border and texture which has a wonderful 3D feel. The standout feature must be the rectangle of red bolts. There's no Photoshop here's that's exactly as I found them.
Click Here To Download the industrial template
With those bright red bolts and the metal texture the sort of photo that's likely to work best is something with an industrial feel. I found mono images worked well but don't let that limit your imagination. If the red bolts are a bit too bright then reduce the templates saturation value to suit your taste.
The sample image here was simply placed above the template, resized to fit and the layer blending mode was changed to Overlay. Other blending modes will also work so experiment away.
If you create a photo using the Friday Freebie then let me (and everyone else) know by leaving the link in the comments below.
Usage rules
The template is copyright Gavin Hoey 2013. Use is limited to any personal, non-commercial purposes. Please share the Friday Freebie by linking back to this page. Do not redistribute the original image without my permission