Posted
April 29, 2013 by Gavin Hoey
in Videos
Backlit portrait with just one light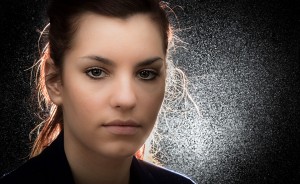 I'm a huge fan of using speedlights, or flash guns as I grew up calling them and I know a lot of photographers own at least one. For me the humble speedlight is a powerful tool capable of producing amazing portraits.
In this video I try to break the laws of physics by using one speedlight to light both the back and front of a model with just one light. The secret is reflecting the light off of a silver reflector which in effect makes one light become two.
As a final touch I'll create a sparkling background by adding a little bit of flour into the air behind my model Kristina but in front of the flash.
Equipment used in the video: 
Adobe Photoshop CS6
http://www.adorama.com/searchsite/default.aspx?searchinfo=photoshop+cs6&category=4294967278+11&KBID=67338
Canon 60D
http://www.adorama.com/ICA60D.html?KBID=67338
Canon 24-105L f/4 IS
http://www.adorama.com/CA24105AFU.html?KBID=67338
5 in 1 reflector
http://www.adorama.com/WE5I1R20.html?KBID=67338