Posted
February 10, 2014 by Gavin Hoey
in Videos
A Splash of Lemon
Winter round these parts usually means short days, long nights and inclement weather which makes for a tough time for us photographers. So here's a photo project that you can take at any time and whatever the weather.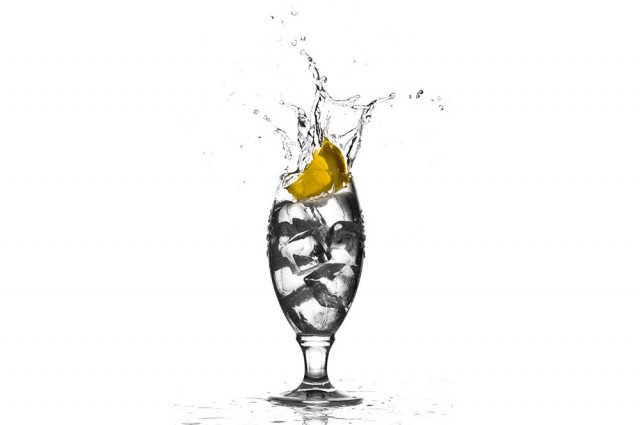 The technique makes use of a single flash to freeze the moment a slice of lemon splashes into a glass of water. No flash? Well you might be able to do this with a super bright light but to hit the really fast shutter speeds needed to freeze the action you'll need to bump up your ISO and open up the aperture. Flash really is the way to go as you'll get sharper shots with a bigger depth of field and be able to use a nice low ISO.
I'm using glass "ice cubes" real ones are fine but they will float. So either pack them in tight or use a bigger, heavier piece of lemon (other fruit slices can be used too). Alternatively lose the ice and use fizzy water, the idea is simply to put some texture in the glass and how you do that is up to you.
Equipment used in this video (Links to Adorama)
Adobe Photoshop Lightroom V5 Software, Windows and Mac OS
Canon EOS 60D Digital SLR Camera
Canon EF 24-105mm f/4L IS USM AutoFocus Wide Angle Telephoto Zoom Lens
Enlight photo Frio Universal Locking Cold Shoe V2
Canon RS-60 E3 Remote Switch (2′) for Canon Sub-Mini (E3)
Flashpoint Universal Swivel Holder -Umbrella holder
Vanguard Alta Pro 284 Carbon Tripod with SBH-100 Ball Head
Flashpoint 6.5′ Black Lightstand, 5/8″ Top Stud