Eroded Edge Texture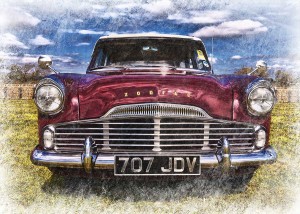 This weeks Friday Freebie is an eroded texture which is simple to use and gives amazing results. It's a black and white texture that has a dark mottled centre, fading to a lighter edge.
Full download instructions are below but you can also
Click Here To Download the Eroded Edge Texture
Unlike most textures, the eroded edge effect works best with photos that have large areas of darker tones. All you need to do is paste the texture over your photo and set the layer blending mode. There are loads of different layer blending modes to choose from and they'll all give a different look, with this texture Screen blending mode worked well as did Overlay and Soft Light.
If you create a photo using the Friday Freebie then let me (and everyone else) know by leaving the link in the comments below.
Usage rules
The texture image is copyright Gavin Hoey 2013. Use is limited to any personal, non-commercial purposes. Please share the Friday Freebie by linking back to this page. Do not redistribute the original texture without my permission.
Download instructions
Click the link https://drive.google.com/file/d/0B_Mmmm3K1utNc2tESjJKYTNIUUk/view?usp=sharing
1. Click the Download button 

2. The download should start automatically