Posted
August 5, 2013 by Gavin Hoey
in Videos
Two Curves Tricks – Creative Lightroom Episode 4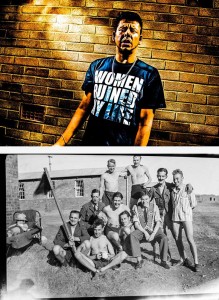 In the fourth episode of Creative Lightroom, I have not one but two creative techniques and both of them involve using Curves.
You can still catch the first three episodes here
episode 1, Light leak effect
episode 2, Painted border
episode 3, Selective colour
The two effects couldn't be more different even though the same tool is used to make them. The first technique is a very gritty posterization effect which looks amazing on the right image. The second effect is perfect for anyone who scans or copies old negatives and wants to make them back into a positive.
As always it's worth mentioning that if you're a Photoshop user rather then Lightroom user then remember EVERYTHING I show in the video is the same as Adobe Camera RAW in Photoshop CS3, CS4, Cs5, CS6 and Photoshop CC.
Can't see the video? Click here: http://youtu.be/IsDg8EV-Byw
UPDATE
Lots of you have been guessing which of the men in the old photo is my Grandad. The answer is he's the tallest one, in the middle holding his trademark pipe. As for the question of why the guy on thr right is without trousers, I'm not 100% sure. It's probably a combination of the heat (they were in South Africa) and being taken in 1943, there was a war on!