35mm Film Template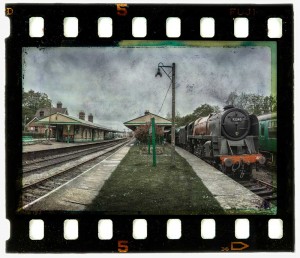 I found this weeks Friday Freebie whilst sorting through a pile of old slides I had gathering dust in my office. I'd used this one during the '90's in what was known at the time as a "slide sandwich" and was simply two slides pressed together to create a new third image when projected.
Full download instructions are below but you can also
Click Here To Download the 35mm film template
Although the days of the slide sandwich are far behind me, the technique of combining two (or more) images together is alive and well in Photoshop in the form of layers. To make life a little easier I've created a template from the 35mm film complete with a note of where your own photo should be added, a blending mode that should work with most photos and a grungy layer mask for if you need to reduce the texture from the centre of the film. Of course you can also change everything if you want.
At 5000 pixels on the longest edge and with lots of fine textured detail, this weeks Friday Freebie PSD template comes in at around 70mb. If you're not on a fast internet connection if might take a few minutes to download.
As always, if you create a photo using the Friday Freebie then let me (and everyone else) know by leaving the link in the comments below.
Usage rules
The image/template is copyright Gavin Hoey 2013. Use is limited to any personal, non-commercial purposes. Please share the Friday Freebie by linking back to this page. Do not redistribute the original image/template without my permission.
Download instructions
Click the link https://drive.google.com/file/d/0B_Mmmm3K1utNNXpONGJGTk9WUkU/view?usp=sharing
1. Click the Download button 

2. The download should start automatically
3. Save the template to your hard drive
4. Open in Photoshop or Photoshop Elements
5. Paste your photo BELOW the 35mm layer