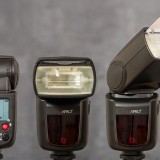 Review PIXAPRO 580 Li-ion Speedlight
On the surface the PIXAPRO 580 looks just like any other Speedlight but look inside and you'll find it's hidden secret. The usual AA batteries that I have a love hate relationship with are gone, replaced by a lithium battery which potentially offers faster recycle time, more flashes per charge and no more hunting around the house for my missing AA's.
For the purposes of clarity I'm reviewing the PIXAPRO Li-ion580 from Essential Photo here in the UK. The flash itself is made by Godox and can be found around the world rebadged as various names. For example in the USA it's the Flashpoint Li-ion from Adorama. I'm reviewing the manual version but the TTL Li-ion is essentially the same.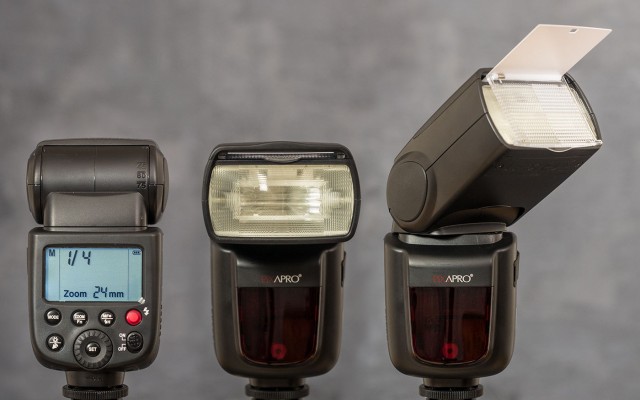 What's in the box
The unassuming white box contained the flash, protective pouch, hotshoe stand, a Li-ion battery, the charger and a power cable with a UK plug at the end. Everything was neatly packed and ready to go. The battery had some life but I immediately put mine on charge to top it up.

The flash itself has all the usual features built in. You'll find a pull out diffusion panel and bounce card, there's a focus assist beam, optical slave trigger and a 2.5mm external trigger port. There's also a four pin port for the ST-1 wireless receiver which isn't included with the flash but I highly recommend.
Performance
On paper there are a couple of reasons to choose this flash over other similarly priced Speedlight's.
Thanks to the Li-ion battery recycle speeds are very impressive. At full power the flash was ready to fire again in 1.5 seconds, that's one second faster than my Yongnuo YN-560III with its AA's. Drop the power to 1/2 and recycling takes just 0.55 seconds and by 1/4 power, it's more or less instant… for the first 4 flashes. All other powers below that were instantly recycled.
Full power at  1 meter (24mm zoom) gave me f/20 with 100 ISO. Oddly 1/2  power resulted in f/16 which does give a clue to where a few corners may have been cut. More about that later.
The Li-ion battery claims to have the juice for 650 full power flashes, about 2.5 times as many as an AA Speedlight. Whilst I didn't test that I did notice that the flash power lasted better then I'm used to for an AA powered speedlight.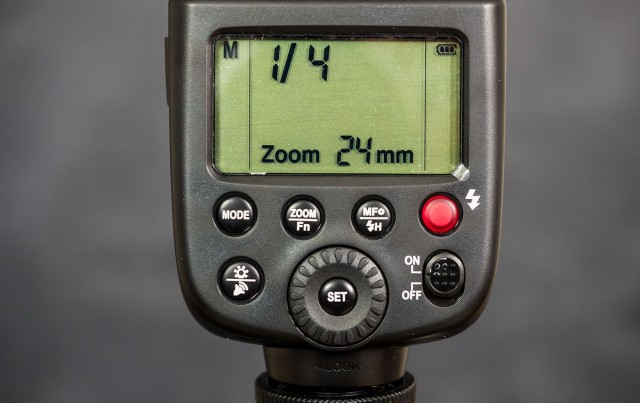 Being a manual flash there's only a few controls but I loved the big and bright LCD display. Modes include Manual, Slave, Pre-flash ignore and stroboscopic. There's also a beep control which sounds when fully charged at 1/1 and 1/2 power settings. A nice touch is it also beeps when you adjust the power with the ST-1 remote. It's a small thing that makes a big difference with a multi flash set up or just to confirm you're on the right channel.

There's a good but not amazing zoom range of 105mm to 24mm with a built in wide angle panel available too.
Finally there's the build quality which is very good for the price. The plastics used may not be premium but they feel durable enough and there's no odd rattles or squeaks. Yes it'll probably get scratched with day to day use and if you drop it, well don't expect it to bounce but if that's the kind of gear you need you're probably not looking for a Speedlight like this!
Downsides
Let's start with the obvious one. Unlike the ubiquitous AA's, the Li-ion battery is unique to this flash. The bottom line is if it goes flat, fails or you lose it, there's no nipping out to the nearest corner shop and getting another one. Buying a spare battery is a sensible idea but at £50 it's almost half the price of the flash. Whilst I'm on the subject of the battery, the supplied charger worked without issue however if I left the battery in the charger cradle with the power off it would self discharge. I quickly learned to take the battery out of the charger or flip it upside down when full.

As I mentioned earlier, moving from 1/1 to 1/2 (or vice versa) changed the amount of light by 2/3rd of a stop rather then a full stop. The same thing happened between 1/64 to 1/128 too. Thankfully all other power adjustments resulted in the correct light adjustments. In the real world, it didn't matter a jot as I tend to constantly meter the light and rarely shoot at the maximum or minimum powers.
Conclusion
With a price tag at the time of review of just under £120.00 the PIXAPRO Li-ion 580 sits between the budget Yongnuo models and higher end speedlights from Phottix. It's certainly far less expensive then Canon or Nikon's own branded speedlights but still gives them a good run for their money.
The Li-ion battery isn't a gimmick and worked really well for me, out performing the AA's speedlights for flashes and recycle speed. It would have been nice to have the option to use AA's or Li-ion but I'm sure there are lots of technical reasons why it's easy to say and very hard to do.
If you're in the market for a speedlight, this one has to be high on your list especially if you're a fan or owner of the Godox (Flashpoint, PIXAPRO et al) eco system and radio triggers.