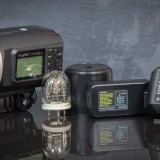 Review PiXAPRO CITI600 flash
With 600ws of flash on tap and a massive 8700mAh built in battery to power it, the PiXAPRO CITI600 sounds like a very capable flash head on paper. Throw in the potential for HSS and TTL if you're a Canon or Nikon user and that unit is starting to sound very promising.
For the purposes of clarity I'm reviewing the PIXAPRO CITI600 TTL from Essential Photo here in the UK who were kind enough to send me a unit to review without prejudice. The flash itself is the AD600 from Godox and can be found around the world rebadged as various names. For example in the USA it's the Flashpoint XPLOR600 from Adorama.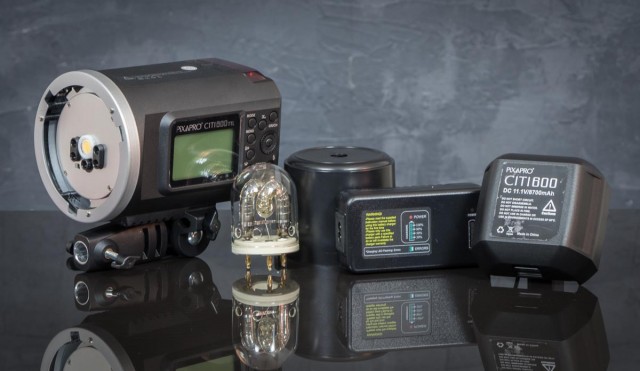 What's in the box
Inside the box was the CITI600 flash and it's 8700mAh battery. Being battery powered you get a mains charger which can run on anything from 100-240v and thankfully came with a UK plug. The charger also has some LED's to indicate how charged the battery is.
The flash tube for the CITI600 is inside a glass case which out of the box needs to be fitted. It's the usual thing of aligning some pins and pushing home and once done the supplied plastic cover keeps everything safe for transport and storage.
Although the box had room for a reflector mine was missing. As I got one of the first units to arrive in the UK I don't think that's normal. The CITI600 has a Bowens s-mount for which I have several reflectors (and softboxes, beauty dishes etc) so that wasn't an issue.

Performance
The CITI600 is joining the growing ranks of battery powered flash units but  unlike my current go to Godox AD360 (Streaklight 360) flash this is a fully fledged Monobloc complete with a 10W LED modelling light and an industry standard Bowns S fit mount.
Power is adjustable in 1/3rd stops from full to 1/256 and my testing showed it was incredibly accurate losing just 1/10th of a stop from full power to minimum power and anywhere in between.
Testing barebulb gave the following results
Power 

CITI 600
 @ 1 Meter   100 ISO 
Godox AD360
@ 1 Meter   100 ISO 
1/1
 f/25
f/18
1/2
f/18
f/13
1/4
 f/13
f/10
1/8
 f/9
f/7.1
1/16
 f/6.3
f/5
1/32
 f/4.5
f/3.5
1/64
f/3.2
f/2.2
1/128
f/2.2
f/1.6
1/256
 f/1.6
– – –
Recycle times were also good. At full power recycle time was 2.4 seconds which dropped to just 0.7 sec at ½ power and more or less instant at ¼ power. That compares cery well against my other similarly powerful Godox flash (Streaklight 360) that I reviewed a few years back and is still going strong.
Although there is a manual only version this CITI600 has TTL which can be switched between Canon and Nikon via the menu. Being an Olympus shooter I can't test how well it worked but it has +/- 3 stops of exposure compensation and HSS tops out at 1/8000th second.
The CITI600 has a built in 2.4ghz receiver that works perfectly with the new PiXAPRO ST-3 transmitter. Personally I prefer the older but still excellent PiXAPRO AC (Non-TTL, No HSS) transmitter and I was glad to find the USB socket on top for its companion receiver which worked perfectly.
Other triggering options include a 3.5mm jack plus  an optical slave with S1 and S2 modes supported. There's also a micro USB socket which is for firmware updates apparently.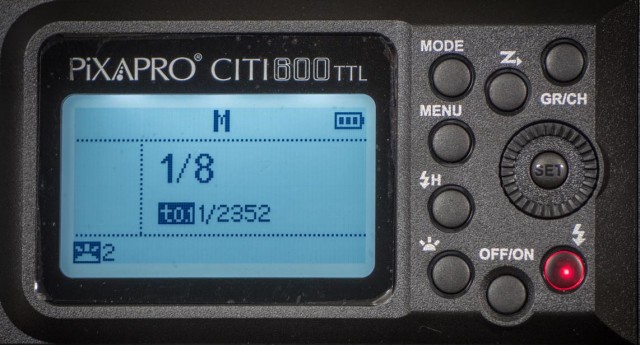 The display on the CITI600 is big and bright with the buttons and dials being nicely spaced out and intuitive to use. One nice feature is the flash duration which is displayed on the LCD in t0.1 format. At full power it's a slow but OK 1/220th sec which decreases down to 1/10,000 sec at 1/256 power.
Downsides
With a 8700mAh battery this was never going to be a feather weight flash and at 2.8KG it's heavier than it looks. Some of that weight is the 0.62KG battery which you might want to have a spare of. Having said that in my tests it consistently ran for a full day of reasonably heavy use on a single battery with power to spare.
The dimmable 10W LED modelling light works fine in dark rooms but isn't that bright even at full power and switches off after a few minutes or whenever you adjust the flash power, which is REALLY annoying.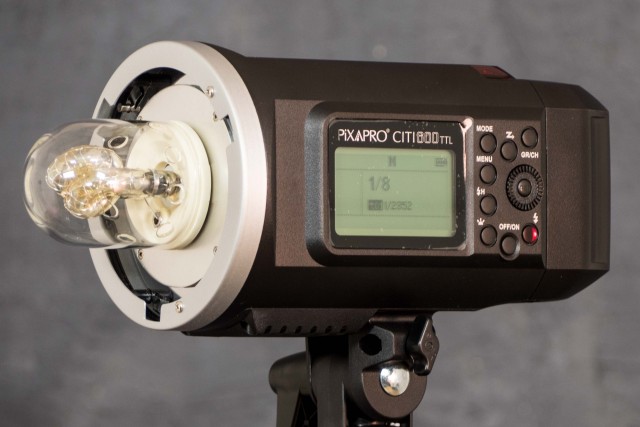 In use the only thing that really annoyed me was the lack of a grab handle at the back. That means every time I wanted to adjust the flash angle I had to loosen the clam and use two hands to adjust the flash head rather than having one hand on the clamp and the other on the handle as I normally would. The clamp itself has ratchet clicks which also made adjusting the flash angle a rather notchy affair.
Conclusion
The PiXAPRO CITI600 (Godox AD600, XPLOR600) is a solid bit of kit with reliable and predictable performance. It's got a wide 9 stop power range and is compatible with endless modifiers thanks to its Bowens mount. It's also become my "go to" light both in the studio and on location.
I only have the one CITI600 but as it fully supports for the Godox radio triggers I'm able to mix and independently control the CITI600 plus my PiXAPRO Li-ION speedlights, my Streaklight 360 and my Streaklight 180 all from the same remote control. It's a truly brilliant system.
It's no lightweight but it's small enough to carry to a location but it can also hold it's own in the studio. A sturdy lighting stand is a good idea, especially if you have any plans to put it at the end of a boom arm.
If you need TTL then get the TTL version but if like me you only shoot manual, take a look at the manual only version of this flash. At around £150 cheaper (currently discounted to £250 cheaper) it's a bargain!
The word is that a AC power adaptor is coming soon.