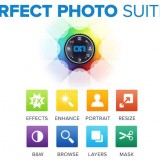 Perfect Photo Suite 8
Perfect Photo Suite 8 from onOne Software is a complete photo editing package in its own right but for the purposes of this review I'm looking at it as a plug-in that's compatible with Photoshop, Lightroom and Elements. Now you might be asking yourself… what on earth is there that Photoshop and co, can't already do that would require a whole suite of plug-in filters? Well, whilst it's true that some parts of Perfect Suite 8 are a little superfluous for those of us who have mastered the basics of Photoshop editing there's still a wealth of things that Perfect Photo Suite can do better then Photoshop and some things that are simply impossible to do in Photoshop.
To find out more, download a 30 day trial or buy visit the Perfect Photo Suite 8 web site


Once installed, Perfect Photo Suite 8 integrated seamlessly into all my Adobe photo editing software and moving an image from Photoshop (for example) into the plug in was painless and fast. Despite Perfect Photo Suite consisting of several products bundles together I found myself constantly return to Perfect Effects time after time.
Perfect Effects 8
Any time you run any part of Perfect Photo Suite for the first time you're greeted with some quick hints to get you up and running. That's backed up by a great range of video tutorials and recorded demos by onOne, so if you need it there's lots of free help at hand. The Perfect Photo Suite interface is clean and intuitive, you simply click a filter from the left of the screen and then choose one of the preset effects. Look over to the other side of the interface and you'll find a bunch of sliders to fine tune and finesse the filter to your personal taste.
Perfect Effects is the place to go if you like images with loads of texture, if you love photos with soft warm glows and if borders are your thing. Basically there's something for everyone inside Photo Effects 8. Every filter effect has multiple presets for fast editing or you can take complete control and fine tune every aspect just the way you want it. You can paint in effects and paint them out too. There's the sliders to adjust a filters overall opacity and some familiar blending modes such as Multiply and Overlay.
The only gotcha comes when you want to add multiple filter effects as each has to be added on it's own layer and if like me you get carried away and forget to click the new layer button, the new filter simply replaces to old. One other thing to note is the image updates can be a little slow at times, meaning that effect of moving a slider or switching off a layer can take a second or two to fully appear on screen. But those minor niggles can easily be forgiven once you start to dive into some of the amazing effects that are possible.
In the video below I give you just a tiny taste of what's possible in a Photoshop to Perfect Effects round trip.

Can't see the video? Click here http://youtu.be/d44qFHwDLSk
Perfect BW 8
If you're passionate about your black and white images the Perfect Photo Suite 8 has you covered with Perfect BW 8. The interface follows the same lines as Perfect Effects (and the rest of the suite for that matter) with a wide ranging bunch of presets on the left of the screen but for mono I found myself more drawn to the manual controls where I could set things up very quickly and save my own presets for future use.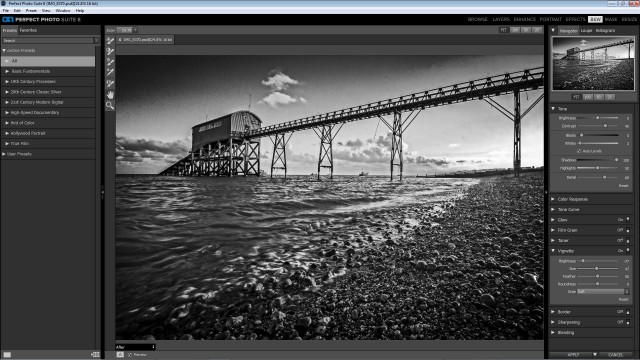 Perfect Portrait 8
Years ago I brought a bit of software called Portrait Professional for extreme skin smoothing. Times moved on, as has fashions and the plastic skin look has thankfully all but gone. Launching Perfect Portrait 8 for the first time I got a weird feeling of daja vu as you have to tell the software where the eyes and lips are for it to work, just like good old Portrait Pro. Thankfully the skin smoothing, eye whitening and lip colouring effects are far more subtle then the effects I remember all too well and that's a really good thing. In fact the end results were pretty darn good and I had to push the smoothing sliders really hard before the dreaded plastic skin appeared.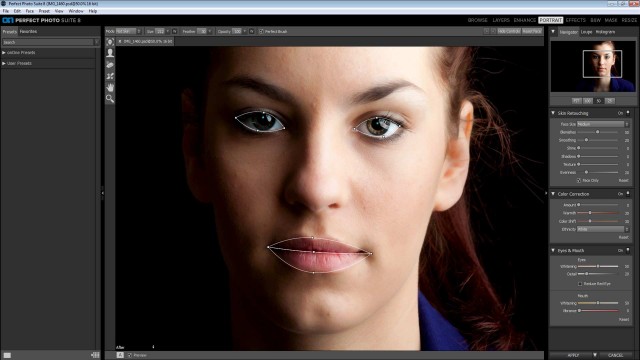 Downsides
If you're looking for Perfect Photo Suite 8 under filters, which would be the obvious place, you'll be wasting your time as they're in the File menu of Photoshop and Elements. Once you've learned that, there's very little to dislike. Yes it can be a bit sluggish when editing large 16 bit files with lots of filter layers and I really REALLY wish I could jump from Perfect Effects to Perfect… anything else but I can't.
Conclusion
With the old war horse that is Nik Software seemingly put out to grass by Google, the time is right for onOne to up their game and that's exactly what they've done with Perfect Suite 8. There's no doubt in my mind that Perfect Effects 8 is the star of the show and has become my plug in of choice for a lot more then just beautiful contrasty effects. The vast choice of frames, textures and presets has to be seen to be believed.
Whether you choose to buy Perfect Effects 8 on it's own or go for the whole Perfect Photo Suite, I'm sure you'll soon be doing what I do and thinking… I wonder what that image would look like if I run it through Perfect Photo.