Posted
April 3, 2017 by Gavin Hoey
in Articles
The Photography Show 2017 Lighting Demos
The Photography Show (TPS) is the UK's biggest and busiest photo event and last week I was lucky enough to be there for all four days. But I wasn't there to shop, network and learn. I was there to teach.
In all I did 17 talks, demos and live streams in four days, so TPS 2017 was a super busy event for me. Along the way I met with some wonderful photographers, so if you stopped and said hello then thank you.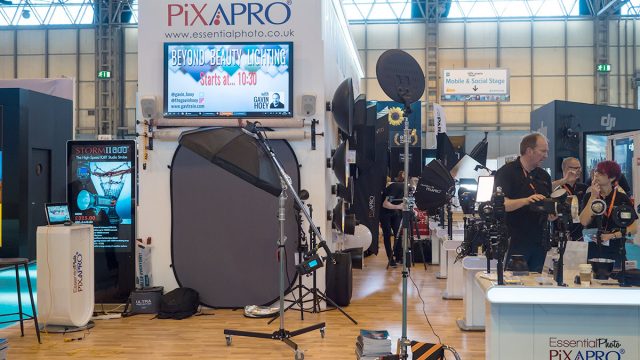 Most of my demos were with PiXAPRO lighting and below are some of the photos from my "Beyond Beauty Lighting" demo. The photos below are straight out of camera and give you a fair idea of what I was showing.
My idea was to set up the "classic" clamshell or beauty lighting with a softbox above and a white reflector below. Once done I then added a background light to take the mid grey background up to a light grey and then pure white. Once there I added a prop or two to style it out.
Next I added various coloured gels to the background, added two speedlights behind to "thin the face" finally broke the golden rule of photography by asking the model to hold the speedlights and point them at the camera. The result was unpredictable, random and fantastic fun! OK here's a few more of both models with just a light touch of editing.
I worked with two models supplied by PiXAPRO over the four days. Ayla and Rosa both worked incredibly hard to make not only demos work but also the other PiXAPRO photographers who also worked the stand.
If you were one of the lucky few photographers who saw my demo AND got a chance to test out the lights with Ayla or Rosa I'd love to see what you shot… leave a link in the comments below.