Posted
June 25, 2019 by Sam-Hoey-Events
in Articles
Bonnie & Clyde Styled Secret Shoot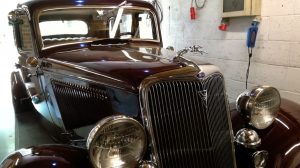 This has to be one of my favourite shoots to date!
I arranged this as a secret portrait shoot, so Gavin was only told the date in advance.
It started when Mike, the fantastic car owner, mentioned he had a Ford V8, the same model as Bonnie and Clyde stole and used frequently. 
The models were my next priority. Brian is always amazing, he gets totally in character when we do themed shoots, so he had to be booked for this! I thought Sophie had the right look but wasn't sure whether character modelling was her thing. Luckily she totally went for it as soon as I asked. The two know each other from previous workshops, so the chemistry was spot on and they both got totally absorbed in their characters!
Although I didn't want to make guns a big part of this shoot, I felt they needed to be present to add the mood. We were very lucky to be able to use replica guns on loan by Ash, who collects all sorts of amazing military props and costumes. He stayed on hand to ensure we stayed safe at all times.
The location was a source of head scratching for me. I felt we needed a choice of backdrops and plenty of space. We've  used The Gatwick Aviation Museum for many shoots and workshops over the years, they were more than happy to accommodate us for this, tick location booked!
I styled this on a budget, boot sale bargains and charity shop buys for the most part. I splurged on a new hat for Brian and a vintage Kodak No. 2 folding Brownie camera (it's beautiful).
Luckily the day stayed dry, despite the threatened rain in the forecast. In fact it got very sunny and warm. Gavin was thoroughly surprised and recovered enough to capture some awesome photo's!
Watch out for some extra footage and BTS to come……
GEAR LIST
Olympus E-M1 Mark ii 
Olympus 12-40mm f/2.8 Pro 
Glow ParaPop 28″ Softbox
Flashpoint Xplor600 Flash 
CHAUVET Hurricane 1200 Fog Machine