Posted
December 12, 2015 by Gavin Hoey
in Articles
Fearless Flash For Speedlights
I love shooting portraits with small flashes and judging by the number of questions I get about the subject, I'm not alone. I've run many workshops on the subject, I use speedlights during my live talks to camera groups and yes, I really do use them in my day to day work. But I've never made a complete video series on how to get the most from them… until now.
I've been working on the Fearless Flash Photograghy video series for the past few months and I'm really thrilled it's finally completed.
More info here…


If you're looking to get big results from small speedlights, this course is for you and I'll walk you through everything you need to know to get up and running with speedlight photography.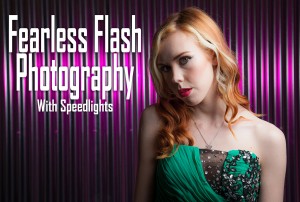 In this video series you'll learn more than just what gear you need, you'll discover the craft of working with speedlights as I put theory into practice on some simple but stunning shoots. Working with three great models, I'll share my favourite one flash setups and double light setups that can be quickly reproduced in any studio big or small, permanent or portable.
The course is packed with great information but you don't need a specific camera or flash brand to follow along. It includes plenty of lighting diagrams and a BONUS video with my quick tips for post processing the images shot during the making of this series.
You choose to either rent the videos and watch online for a month or buy the series and download or watch online at anytime.
More info here…