Posted
September 21, 2011 by Gavin Hoey
in Articles
Quick Print Resizer – Free Action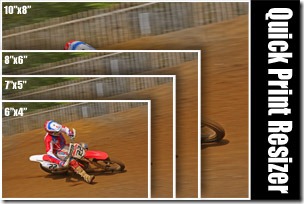 Here's another one of my free downloads. As always it's hosted on Adobe Exchange which means it's free to download, but you'll need to register on the Adobe site. It's well worth it registering as it opens the door to lots of great Photoshop goodies.
This time, it's a time saving action for anyone like me who needs to Instantly turn a single image in four photos at popular print lab sizes. The action makes one original sized image plus: 10″x8″ print, 8″x6″ print, 7″x5″ print and 6″x4″ print.
It Includes individual actions to make either 300ppi or 240ppi resolution prints in both upright (portrait) and wide (landscape) formats.
NOTE: Source photos should be uncropped images from a DLSR camera. Images will be cropped to fit sizes