Posted
August 13, 2014 by Gavin Hoey
in Videos
5 in 1 Reflector – Home Studio Essentials – Episode 4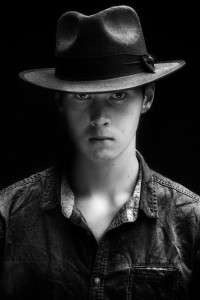 There's 1000's of photographic gadgets, gizmos and accessories that you can spend your hard earned money on and whilst many are utterly useless, there are a few that are indispensable. Towards the top of my list of "must have" accessories is the 5 in 1 reflector.
A five in one reflector is so called because it has five surfaces. There's the white and silver surfaces for bouncing light, a gold side for adding adding warm light (and usually best avoided), a black surface to block light and a translucent surface to diffuse light. Best of all it's one of the least expensive bits of kit you can buy.
In this video I use the silver surface to bounce light and fill in troublesome shadows. In this case the shadows are caused by a wide brimmed hat. One way would be to add a second light but if that's not available a reflector can fill in very nicely… and yes, that pun was intended!
Gear used in this video (Links back to Adorama)
Flashpoint StreakLight 360 Ws Creative Collection (Includes flash, battery, trigger, boom etc)
Westcott Basics 5 in 1 reflector
If like me you like to keep a visual record of you're lighting set ups then this image should come in very handy.