Posted
December 12, 2012 by Gavin Hoey
in Articles
SplashArt Kit 2 ~ Review
I love photographing drips and over the years I've made one or two videos about how it's done. However the SplashArt kit 2 offers to take drip photography to a professional level.
Verdict: The SplashArt 2 Kit is well designed and simple to use but best of all the photos it helps to create are just amazing. If you're serious about photographing splashes then this is a must have accessory.

Overall Rating

Design / Features
Performance

Price

+ Plus Points
+ Everything you need in one kit
+ Repeatable splash photos
+ Choice of single or double drops
– Minus Points
– No markings on controller
– Getting perfect splash can be frustrating

Price (at time of review) £179.00
Suppliers Website: http://www.phototrigger.co.uk/

Purchase from here
Getting good photos of water drips isn't that hard to do, in fact one of my most watched videos covers how to get great photos of basic drips. However the one thing I've always wanted to capture is a collision and always failed to do so. The SplashArt kit promises to do exactly that with precise control.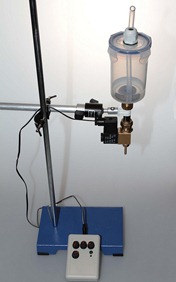 What's in the kit
The good news is the kit contains everything you need, all you need to do is add water and a camera of course. The heart of the splashArt kit is the controller which is used to trigger the camera and release the drips. The other vital part of the kit is the solenoid which is basically an electronic tap but you also get all the cables you need including the trigger cable that's compatible with your camera model.
If you're a UK buyer you can also buy the kit with a metal retort stand and arm. The retort stand took me straight back to my days in the chemistry lab at school and the arm does look like something out of a plumbers merchants but it works perfectly.
In use
Setting up the SplashArt kit was very simple with some nice touches. For example there are three cables to be connected but each cable has a different connector, so there's no chance of accidently wiring your camera to the mains!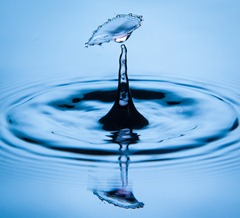 My only complaint is that none of the four dials on the controller are labelled or have scale markings. That made getting up to speed with the unit a little more tricky for the first time user like me.
Of course the big question is how did it perform? Well, after an initially frustrating 10 minutes of missing the magic collision I managed to find the perfect combination of settings for the dials and I was off.
20 minutes later I had dozens and dozens of amazing collision shots in the bag.
Part of the allure of a kit like this is the predictability of the system and the SplashArt kit excelled here. Take a look at the six photos below. They were taken one after the other and although each is different the timing was perfect shot after shot. Just don't change anything once you have the look you want!

Click to enlarge
Who's it for
At nearly £180 this kit is great value but it's not for everyone. You'll need to be fairly serious about your splash photography in order to warrant the money. Moreover, once you've mastered the art of capturing splash collisions you'll need to be resourceful in the creativity department to come up with more uses.
That said there are plenty of alternatives for you to explore. Water can be replaced with milk, paint or any coloured liquid you can get your hands on. Each has it's own style of splash.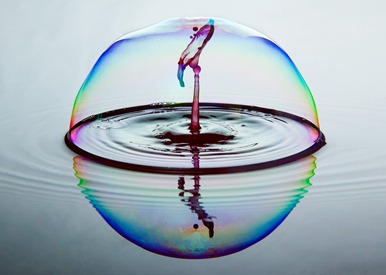 I can imagine the SlashArt kit would be a brilliant investment for a small group of photographers who can share the skills and the price amongst themselves.
Conclusion
I loved using the SplashArt 2 kit and it's a keeper for me. At £180 it's not cheap but it's hardly expensive either. OK so there's no markings on the dials and from time to time it would miss a drop but in the space of 30 minutes I went from never having captured a splash collision to having dozens of them… and they were all brilliant!