Posted
November 23, 2012 by Gavin Hoey
in Articles
Carry Speed FS-Pro 2 ~ Review
Much as I love my Black Rapid sling straps I've never been 100% happy with them. So I was keen to find out how the Carry Speed FS-Pro 2 measured up.
Verdict: There's no denying that Carry Speed FS-Pro 2 is a well designed and well built piece of kit. The inclusion of a folding, tripod mountable plate is ingenious but only if you fit it correctly to your camera.

Overall Rating

Design & Features
Performance

Price

+ Plus Points
+ High levels of comfort
+ Clever mounting plate
+ Front Quick Adjustment
– Minus Points
– Locking "O Ring" can slip
– Easy to fit back to front
Price (at time of review) £56.00 ($70.00 USD)

Suppliers website www.carryspeed.com
The Carry Speed FS-Pro 2 is really a strap of two parts. First there's the very cleverly designed F1 foldable mounting plate and the strap itself and I'll tell you right now, they're both brilliant.
The Strap
The first thing I noticed about the FS-Pro was it's huge shoulder pad and to be honest I wasn't keen on it initially. If, like me, you normally like your camera gear to be discreet then I'd suggest looking at the Carry Speed FS-Slim as a more subtle alternative.
But this strap isn't trying to hide away, this strap is designed to make light work of carrying heavy cameras and to that end it's amazing. In fact I'd go so far as to say it's possibly the most comfortable camera strap I've ever used.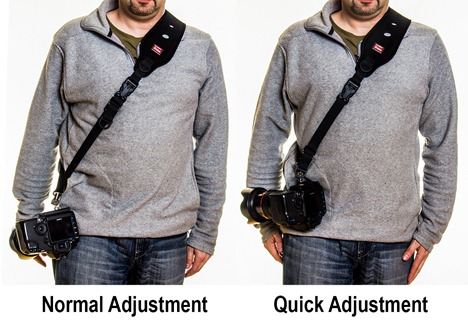 The comfort factor comes from the shoulder pad being made from a combination of stretchy neoprene and rubber. The strap can be adjusted in length to suit your size, although if you're particularly tall or wide you might want to contact Carry Speed to check the exact length.
On the front of the strap is a couple of D-Rings for attaching links like the included uni-strap which helps spread the load of long lenses by attaching the strap to both the lens and camera body's tripod mounts.
One of my favourite features is the front quick adjustment. Here's how it works… when I'm not shooting with the camera and I want to keep it close to my body, all I have to do is give a sharp pull on a D-Ring and the strap instantly tightens up. Clever stuff!
The mounting plate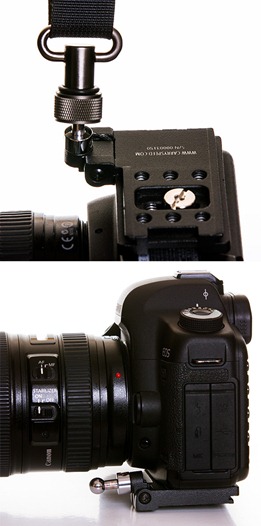 I've used sling straps for years and much as I love them, things like not being able to put the camera down flat are an annoyance. But having to remove the strap before I can use a tripod is probably top of my gripe list.
With the F1 mounting plate, Carry Speed have side stepped both those problems because it folds down flat AND it has six tripod holes meaning you can attach pretty much any quick release plate and still use the strap. The design may not be pretty but they work really well.
It's not all good news though. The mounting plate is attached to the strap by a ball and socket which is huge! I also had concerns about the thread on the ball joint unscrewing. Carry Speed have added a rubber O-Ring which is supposed to prevent accidental unscrewing but it doesn't. Fortunately in all of my testing I didn't have any issues but I did keep a weather eye on the ball joint… just in case.
One really important thing to note is that the mounting plate MUST be fitted the correct way round and as there's no clues on the plate as to which way is the correct way, it's easy to get it wrong (just like I did the first time). When the plate is fitted back to front the whole system is worse then useless as the folding ball joint will poke you in the face. Ouch!
Conclusion
There's so much to like about the Carry Speed FS-PRO 2. It's super comfortable in use, very well made and supports the camera well. I do have some reservations about the design of the ball joint but that's not enough to stop this strap becoming my "go to" sling strap for use with heavy gear.