Posted
December 3, 2012 by Gavin Hoey
in Articles
Photo Director 4 ~ Review
In the world of photo editing Adobe have had very little in the way of serious competition. Photo Director 4 from Cyber link would love to change that so let's find out if it's got what it takes.
Verdict: PhotoDirector 4 is surprisingly good at what it does. It borrows heavily from the design and interface of Adobe Lightroom 4 and it even throws in some neat tricks of its own. It's just a shame that PhotoDirector can't match the image quality gained from using Lightroom 4 that it mimics so closely.

Overall Rating

Design / Features
Performance

Price
+ Plus Points
+ Fully featured photo editor
+ Wide range of editing tools
+ Excellent pseudo HDR effect
– Minus Points
– Image quality could be better
– Controls can be sluggish
Price (at time of review) £72.00
Suppliers Website: http://www.cyberlink.com
As a die hard fan of Photoshop it seems very strange using a bit of software that doesn't come from Adobe but PhotoDirector 4 has a uncanny familiarity about it. In fact if someone had told me that this was a beta version of "Lightroom Elements" I'd have totally believed them.
At its core PhotoDirector 4 is a photo organiser and photo editor that can handle pretty much any photo format you can throw at it, including RAW files. The program is split in to five modules which are the Library, Adjustment, Edit, Slideshow and Print sections. You move from one section to another making changes as you go.
You can see Photo Director 4 in action by watching my overview video below.
In use
Editing your photos is PhotoDirector 4 is a pleasant experience. There's lots of controls at your disposal and adjustments are applied live to the image on screen. The changes appear almost instantly, although there is a momentary delay before the full resolution effect is seen on screen. I did find one annoyance however, the interface had a habit of regularly not moving the slider I was dragging.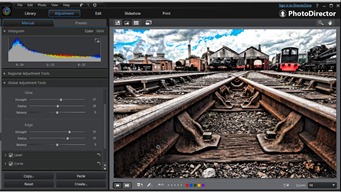 In the Adjustment section there's a great selection of preset effects on offer with the option to create your own too. Sadly you can't make presets for other sections, such as Print, which is a shame.
Unique features
It's impossible to use PhotoDirector without comparing it to Lightroom but there's also a bit of Photoshop Elements in there too. There's a Liquify brush, a skin smoothing brush and a teeth whitening brush. There's also a brilliant Pseudo HDR effect which was possibly my most favourite feature and not something you'd find in either Photoshop Elements or Lightroom.
Conclusion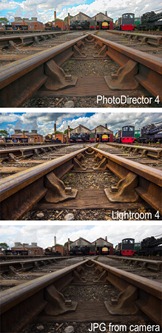 If you've no wish to use an Adobe product then I can whole heartedly recommend Photo Director. If you've tried Lightroom and found it lacking in features, I can honestly say Photo Director is well worth a go.
It's the image quality that really matters of course and here PhotoDirector 4 held it's head high on most adjustments. Processing RAW files gave some great results with noise free images with good sharpness and colour.
It all sounds and looks great… until you compare it to the image quality obtained in Lightroom or Photoshop. Sadly much as I liked PhotoDirector, I can pull far more out detail from the shadows and highlights in Adobe Camera RAW. I can also add much more clarity and the experience of doing so is far more fluid. That said Adobe need to watch their back as the gap between them and the competition is closing.