Posted
November 7, 2012 by Gavin Hoey
in Articles
Kingston Ultimate 600X ~ Review
In this review I'm looking at the Kingston ultimate 600X, it's a compact flash memory card that promises to really pack a punch when it comes to speed and capacity. Lets see how well if fares in the real world.
Verdict: The Kingston ultimate 600x performed very well in terms of its speeds. In real world use it's proved itself to be very dependable. Just make sure you have a compatible camera and card reader.

 
 

Overall Rating

Design & Features
Performance

Price
+ Plus Points
    + High Capacity
    + Excellent value
    + Very fast Speeds
– Minus Points
    – USB 3 reader required for max speed
    – May not be suitable for older cameras
    – 32GB maximum size available
Price (at time of review) 32GB around £60.00 $80.00 from Adorama 
Suppliers Website: www.kingston.com
The Kingston ultimate 600x is not the newest card on the block nor is it the fastest but it's certainly one of the best value cards around. It uses UDMA technology which is short for Ultra Direct Memory Access and that means it's quick. All UDMA cards can achieve a write speed of at least 45MB per second but with the ultimate 600x Kingston is claiming a read and write speed of a whopping 90 MB/s. Add to that the inclusion of a lifetime limited warranty and access to Kingston's mediaRECOVER software via a download (activation key is in the box) and this card is shaping up very well indeed.
Capacity
The Ultimate 600x comes in two sizes, 16GB and 32GB. Which you prefer will depend on the pixel count of your camera, if you shoot in RAW or JPG format and your personal feeling about whether having more photos on less cards is safer then having less photos on lots of cards.
Using my Canon 5D Mark II photos as a guide a 32 GB card stores around 1050 RAW files or 4900 JPG's.
Speed Tests
If you need to shoot lots of photos very quickly without camera buffering then this card is aimed squarely at you. That said fast cards are not just for the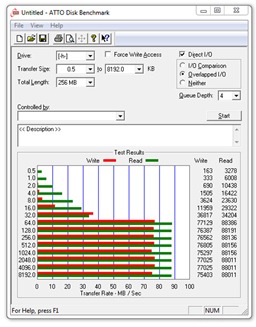 sports shooters amongst us, we all have to download images on to our computers and when we do a fast card will reward you handsomely.
If technical charts are your things then the ATTO test will give you a fair idea of the speeds the card can reach. A quick glance at the chart will show you that the write speeds were very consistent at around 76 MB/sec and read speeds were slightly better at 88 MB/sec
The read speed is where the the biggest time saving comes when transferring files from the card to your computer so faster is definitely better here.
The write speed is a little disappointing as it misses the advertised speed of 90 MB/sec, however the read speed is bang on. It's worth noting that there will be  slight variation in speeds results from one computer to another and I'm sure a top line computer in lab conditions would meet the claimed speeds with ease.
To test the card in the real world I copied 4GB of data from my SSD equipped PC to and from the card and found the writing 4GB of data to 70.5 seconds whilst reading it took 53.5 seconds.
Performance
I've used this card for a few weeks now in a number of photo situations including damp, cold landscape sessions and fast paced studio portrait shoots. Always shooting in RAW I can happily report that the card had no problems dealing with the conditions. There was no buffering, no missing files and no corrupted images.
Potential issues
Just when you thought that everything was going well there's a snag… well actually there's two but neither are specific to the Kingston Memory card on test here but you should be aware of them none the less.
First there's the read speed. In order to transfer the photos at their maximum speed you need a card reader that can handle UDMA compact flash cards and it will have to be USB 3. If not then the read speed will drop considerably and the speed advantage you thought you would be getting becomes lost.
The second issue could be a deal breaker. UDMA technology comes in a couple of different flavours and not all cameras support all UDMA cards types. My Canon 5D Mark II had no issues with the Kingston card but it's well worth checking with your camera manufacturer to see if your camera is compatible with this memory card. I've checked with Kingston who also assure me that the card is now fully compatible with Nikon cameras too.
Conclusion
The Kingston Ultimate 600x is a seriously fast memory card at a price that's almost half that of some of it's competitors. That alone makes this a great deal but do check you have the correct equipment to handle all that speed.
There's no shortage of choice when it comes to memory cards but getting the wrong one could result in slower performance for your camera and more time sat in front of the computer. The Kingston Ultimate 600X isn't the fastest or newest card around right now but that means you'll find some brilliant deals out there. I say grab one while you still can.