Posted
October 11, 2011 by Gavin Hoey
in Articles
Yongnuo ST-E2 first look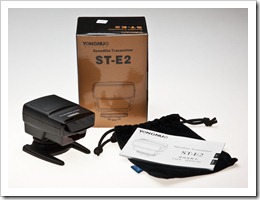 It seems that Canon have been rather slow in seeing the advantage in off camera flash. Until the introduction of cameras like the Canon 7D and 60D, if you wanted to fire an off camera speedlite and still enjoy the benefits of ETTL you'd need a second flash attached to the camera or a very long flash sync cable.
As I really don't like cables being attached to my Canon 5D MK2 camera, I've always used an on camera Canon 580ex flash to fire my second 580ex flash, off camera. That makes it a very heavy and pretty expensive way to shoot pictures.
Sometime ago Canon came up with a solution. It was called the ST-E2 and effectively it's a mini flash that only fires near infrared light, which can be seen by the 580ex (and other flashes) and maintains full ETTL. But there were problems with the ST-E2. First, it wasn't exactly cheap, second, it used a non standard battery and third, it didn't rotate and as the ST-E2 requires line of sight (outdoors) that rules out flashes being placed behind the camera.
Earlier this year Yongnuo produced a "copy" of the original ST-E2 which, they claim, address the failings of the Canon, so ordered one to see if they really had. Slightly confusingly, they also named their new trigger ST-E2.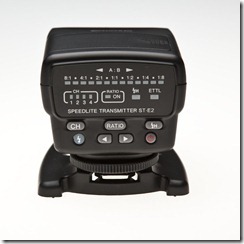 First Impressions.
Once I opened the shiny gold box I was very pleased with what I found inside. There's an instruction manual that's written in almost readable English, you get a handy soft carry pouch and a support foot that has a decent metal tripod thread.
The Yongnuo ST-E2 unit has an almost identical look to the Canon version it copies. The build quality is also almost identical and certainly good enough for me. The control panel on the back of the unit is slightly different to the Canon original, but everything you need is there.
Improvents
Yongnuo have changed and improved a few things that were a pain in the original Canon ST-E2. First off at around £80 it's far cheaper then the Canon alternative. Yongnuo claim the range of their unit is greater then Canons, but I've not been able to test this yet.
Once you use the ST-E2, the first thing you notice is the batteries. The Yongnuo sticks to good old AA's, which is handy as I always have these lying around the studio. The Canon used a CR5 battery I think.
Attach the ST-E2 to the camera hot shoe and it can be turned 135 degrees in either direction. No fiddly buttons to push, just a firm twist will do. To be honest it feels a bit weird just turning the unit and it requires the use of a little too much force for my liking, but it may loosen up in time.
Does it work?
Put simply… yes. The Yongnuo ST-E2 does exactly what it claims. The ETTL works like a charm. The high speed sync works right up to 1/8000th sec and the ratios settings do what you would expect. Press the depth of field preview button on the camera and the speedlite will buzz like a demented bee, producing a rather handy modelling light.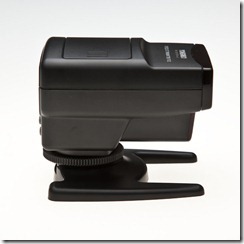 The downside
OK, so it's not all good news. There are several issues that may or may not be a deal breaker for you.
Let's start with size. It's hardly what you'd call discreet, but at least it's light in weight. However if space is limited in your camera bag then it's size is worth noting.
Recycle time is SLOW. Unless I'm missing something, I can't get the Yongnuo ST-E2 to trigger the flashes more the once every 1.5 seconds (approximately) so it's no use if you need to shoot with bursts of flash.
Finally the focus assist beam is truly terrible. When you're shooting with flash you're often in low light situations. To "help" lock focus, the ST-E2 will fire three thin beams of red light, but they're only vertical lines and not one of them is anywhere near my focus points. It's a major failure in my view and one that could make the unit unusable to SOME photographers.
On balance I'm actually loving the Yongnuo ST-E2 and will post back a long term review after further testing.