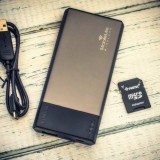 Kingston Mobile Lite ~ Review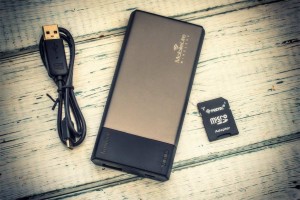 Do you need a card reader that can also share/backup your files and photos wirelessly and gives your mobile device a burst of power in an emergency? If so the Kingston Moblie Lite Wireless could be the answer you're looking for.
Whilst not being aimed solely at photographers I felt this device has enough features to make it useful to us snappers.
What's in the box?
Not much is the answer. You get the Mobile Lite unit, a set of written instructions, a microSD to SD adaptor and a USB to micro USB cable.  It may not sound like much but it's everything you need for charging the unit and learning how it works.
Features
Being a gadget fan I love it when something is multi-functional and for a device that's no bigger than a mobile phone the Mobile Lite promises a lot. Let's start with the big one. As the name suggests the main function of the Mobile Lite Wireless is to share files, photos, music and video from any SD / SDHC memory card to your mobile device over Wi-Fi. All you do is pop the memory card in the device turn it on and it generates its own Wi-Fi hotspot which you (and anyone else in range) access via Kingston's free app on your phone or tablet.
I still remember when mobile phones need charging once a week, happy days! Now it's perfectly possible to find your phone battery goes flat half way through the day and usually just when you really need it. So I was particularly liked the idea that the Mobile Lite Wireless doubles up as a backup battery too.
There's one more trick up the Mobile Lites sleeve. It can also be plugged directly into a desktop or laptop PC (or MAC) turning it into a traditional card reader. Boring yes, but always useful.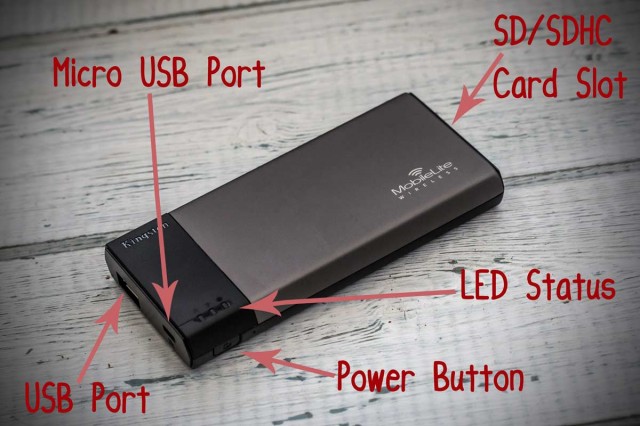 Performance
So can the Mobile Lite Wireless really excel in three areas or would Kingston have been better to do one thing well?
I hate starting with problems but… switching on the device was a pain in the finger.  The power button is crazy hard to press requiring you to push hard and hold with your finger nail until you hear a click. This is not a device aimed at anyone who frequents nail bars.
It's worth noting that for wireless sharing you'll need to download Kingston's free app on your Android or IOS devices. The word functional describes the app perfectly. It's not flashy but it gets the job done.
JPG's can be viewed in the apps slideshow but RAW files cannot. That's not surprising as the device isn't aimed at photographers alone but is still a frustration. Fortunately it's possible to copy files to you mobile devices memory card where you can view RAW files in free apps such as RAWdroid. It's also possible to send files and photos back to the Mobile Lite where they're saved on to the SD card.
As I mentioned earlier this device doubles up as an emergency phone charger. Did you catch the word emergency? From fully charged to totally empty the Mobile Lite added 20% to the battery level on My Samsung Note 2. Now to be fair my Galaxy Note 2 has a massive battery so don't let that put you off and besides 20% power is better than no power in an emergency.
As for using the Mobile Lite as a traditional card reader it worked flawlessly. Just plug it into a spare USB socket and you're in. It'll also recharge that way too.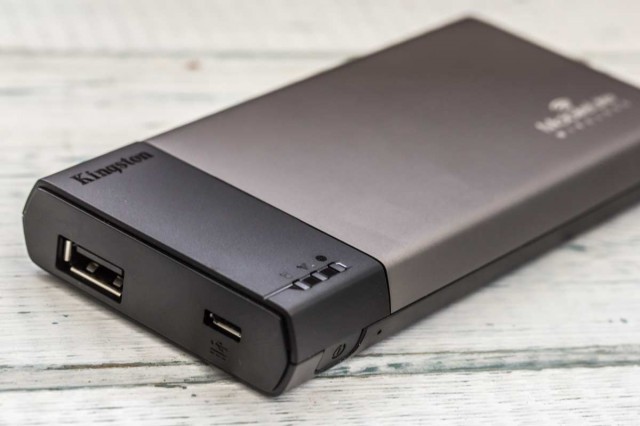 Conclusion
I really liked the Kingston Mobile Lite. It does what it says without too much fuss. OK so you need an app to access the files from a mobile device and there's no built in support to view RAW files. However if you need to share your holiday photos with your family, make your video collection accessible to your friends down the pub or stream your entire music collection to every mobile device you own then it works perfectly.
Bottom line. The Kingston Mobile lite is perfect for amateur photographers who want so share photos or anyone who want to share/backup photos videos and music on the go but if you're a professional photographer, you're still better off with a laptop.