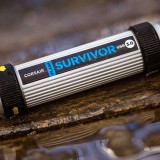 Corsair Survivor 32GB USB3
Plus Points
As tough mobile storage and a great price if you can find the factory recondition drive.
Minus Points
Not the best option if you need small and light. Reconditioned dives only have a 30 day warrenty.
Posted May 29, 2013 by
Gavin Hoey
How careful are you with your memory sticks? I have confess to giving mine a hard time. Given that I use thumb drives to transport important files and photos, I should probably take more care but now I have the Corsair Survivor 32GB USB3 drive which is claimed to be designed for adventure!
Technically this is a factory reconditioned model but in reality there's no difference to my eye but lets see how it stands up to the tests.
What's in the box?
The Corsair Survivor comes in one of those impenetrable vacuum sealed plastic packages, however once inside all you'll find is the flash drive. If you're hoping for a key chain, USB extension cable or recovery software you're out of luck.
Features
The big selling point of the Survivor range is their durability. Firstly the drive itself is screwed inside an aluminum tube and both ends have large rubber collars. In theory this is strong enough to withstand shocks of up to 40G and although I can't verify that, I can say it survived me throwing it forcefully to the ground.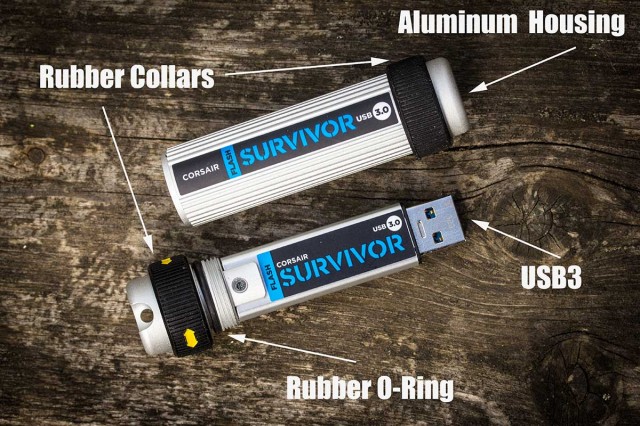 Corsair make a big thing about the Survivor being waterproof to 200 meters. Again I can't confirm this but it shrugged off a good soaking in my tests. To achieve its amazing water resistance the Survivor uses a rubber O ring on the part of the drive that screws into the aluminum housing. This caused a few issues which I'll cover in the next section.
There's no recover software from Corsair, however there is a 5 year limited warranty although it should be noted that this is reduced to just 30 days on my "reconditioned" drive.
Performance
If you're after a small, lightweight USB drive then this really isn't the product for you. The Corsair Survivor is designed to be rugged and dependable when transporting important files and photos. At 8.5cm long and 45 grams in weight, it's also surprisingly big which probably explains why, as of yet, I haven't misplaced it.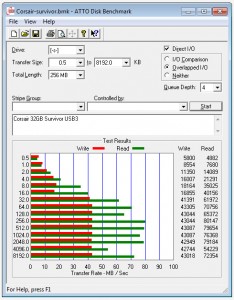 It's size might cause an issue for computers with cramped USB port placement, especially as the rubberized end measure roughly 2cm in diameter. As a result, a USB extension cable would have been most welcome and could be a deal breaker for some.
32GB is a lot of storage for most photographers but if you're planning on filling it up you'll want a fast drive. Assuming you're using a USB3 port, Corsair claim a write speed of 40MB/s and a read speed of 80MB/s
As you can see in my test that's an accurate claim. In the fast moving world of memory, those speeds aren't that exciting but they're fast enough for most people. I also tested the drive on  USB2 and achieved speeds for both reading and writing of around 20MB/s.
My only complaint with the Corsair Survivor was the rubber O ring which keeps out the water. Screwing the drive in and out of its aluminum housing is surprisingly hard work due to the tight fitting seal. Remove the rubber ring and it's much easier to use but you do of course lose the water tight seal.
Conclusion
I really like the Corsair Survivor. Yes it's big and a bit too heavy but it feels really solid. The potential problem of squeezing the drive into a cramped USB slot might be a problem for some and a USB cable really should be included, although these can be picked up elsewhere of course.
As always there's a lot of manufactures hype with this product. I'm never going to go scuba diving with this drive nor am I likely to get blasted into space to test it's G-Force resistance. I'm far more likely to drop it from my pocket or spill a cup of tea over it and when that happens I can be pretty sure my data will be safe.