Posted
December 6, 2012 by Gavin Hoey
in Articles
15 Affordable Christmas gifts for photographers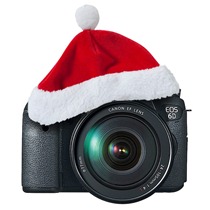 With the Christmas shopping season now in full swing you're either reading this page because you need some inspiration on what to buy the photographer in your life or because you are photographer and you've been asked to suggest a reasonably priced gift.
With photography being a notoriously expensive hobby I wanted to choose accessories that are affordable and useful. So for this gift guide I've chosen things I own or have used that all cost less then £20 GBP or $25 USD. None of them are specific to one make or model of camera so if you're not a photographer you don't have to fret that it won't work.
Battery Storage Box
There's nothing worse then finding three AA batteries in your camera bag when you need four batteries in your speedlight flash. The Ansmann storage box is a brilliantly simple solution for storing 8 AA batteries in one box. It even has a handy diagram printed on the side to show you how which way up to put charged and flat batteries.

If that's not enough, it's cleverly designed so you can also use it to store memory cards instead of batteries.
UK Price £ 3.99 From Warehouse Express
US Price $ 3.99 From Adorama

3″ Spring Clamp
You don't need me to tell you what these do. Let's just say they may not be the most sexy piece of camera gear going but they're probably the most useful.

I've used mine for everything from holding up background cloth to holding broken bags closed whilst in the field.
UK Price £3.99 From Smick
US Price $2.59 From Adorama

Op/Tech 18″ SLR Rainsleeve
This one should be top of every outdoor photographers list. The rainsleeve is basically a long clear bag with a draw string at the end. You can see one in use in this video.

Once attached it will keep the rain, snow and if used with care even the sand off your precious equipment.

With a price tag that matches it's no frills design, it's a bargain but doubly so when you realise each pack contains two of them!
UK Price £ 5.99 From Warehouse Express
US Price $ 6.00 From Adorama

Alpine Innovations Spudz
I love these Spudz lens cloths for a couple of reasons. First they do a great job of cleaning my lenses but more then that they keep themselves clean by being stored in their own tiny pouch which is attached to the cloth.

As they're so cheap, I clip a Spudz cloth in every camera bag so I've always got one to hand.
UK Price £ 6.99 From Warehouse Express
US Price $ 4.95 From Adorama

Rosco The Strobist Collection
This one is perfect for all those strobists out there. These are small rectangular coloured gels that fit perfectly in front of a speedlite.

I use two tiny blobs of BluTak to hold them in place and once attached you can change the colour of the light coming from the flash.

This allows you to add a splash of colour to a studio background, or warm up/cool down the flash light on your model.
UK Price £7.99 From Crooked Imaging
USPrice $7.95 From Adorama

Giottos Q-Ball rocket
Keeping the outside of your camera clean is an important and sometimes overlooked job. OK that might be just me that overlooks it.

The Q-Ball is a powerful blower with a very handy tiltable nozzle. It's perfect for blowing away dust and dirt from hard to clean parts of the camera and is also my first line of sensor cleaning.
UK Price £7.99 From Warehouse Express
US Price $10.50 From Adorama

Bubble Level
Is that horizon really straight? Is a question you'll never need to ask yourself if you pop one of these on the hot shoe of your camera.

Small enough to throw into you camera bag, no landscape photographer should be without one or two of these.
UK Price £8.16 from Crooked Imaging
US Price $5.95 From Adorama

Think Tank Pee Wee Pixel Pocket Rocket
Just like batteries, memory cards have a habit of disappearing so this little gadget is ideal to help you keep everything in one place.

It holds both SD and compact flash sized cards and to stop you losing all your cards in one go, it comes with a security leash so you can clip it to your camera bag.
UK Price £8.99 From Morris Photographic
US Price $15.75 From Adorama

White Balance Pocket Card
If you want perfect colour in your images you'll need a to start with a true grey reference image taken in the same lighting as the final photo. I reviewed the Whibal card some time back and it's now a permanent fixture in my studio and I also have a tiny version in my camera bag.

The Whibal is a US import so if you're buying from the UK I've linked to the nearest equivalent I could find.
UK Price £9.98 From Calumet
US Price $19.95 From Adorama

Kingston Technology 16GB DataTraveller
A thumb drive is an essential piece of kit for temporarily storing photos and transferring files. Now you might think that all thumb drives are the same but if you've ever tried to read or write large amounts of data to one of these things then you'll know they can be SLOW!

The DataTraveller is a USB3 device which means if you plug into a USB 3 port you'll get super fast data transfer. It's USB 2 compatible as well although the speeds will be slower.
UK Price £12.73 From Scan Computers
US Price $ 17.95 From Adorama

Adjustable Flash Mount
If you're into off camera flash or strobist work then these things are essential and if like me you have a habit of losing things, you can never have too many.

Basically this little device will attach your flash gun to a lighting stand and allow you to adjust the angle or even attach an umbrella.
UK Price £13.99 From Smick
US Price $15.25 From Adorama

Ansmann Digital NiMh 2850mAh AA Batteries
AA sized batteries seem to disappear in my house and from time to time I'll have a round up, usually starting in the remote controls for various TV's and games consoles. That's why it's impossible to have to many AA batteries and these are some of the more powerful ones around. If you use them in your Speedlight's then more power means more flashes and that's got to be good.
UK Price £13.99 From Warehouse Express
US Price $16.40 From Adorama

SanDisk 16GB Ultra SDHC
Almost every new digital camera seems to shoot SD format today and with pixel counts going up you'll need more storage. For most photographers the 16GB size is an ideal balance between price and storage size.

This from SanDisk has a pretty fast 30MB/s write speed which will keep up with all but the biggest cameras shooting in burst mode and is perfect for DSLR video work too.
UK Price £14.00 From Warehouse Express
US Price $14.95 From Adorama

USB 3.0 Universal Memory Card Reader
USB 3 is the new high speed way of moving data onto your computer. Well I say new, in fact USB 3 has been around a while but now prices of compatible devices are falling.

This USB 3 card reader will allow you to move your images from the memory card to the computer at lightening speeds, as long as it's plugged into a USB 3 port of course.
UK Price £16.13 Amazon UK
US Price $23.95 From Adorama

Westcott 20-inch 5-in-1 Reflector
A 5 in 1 reflector is one of those "must have" gadgets that has a million uses… OK maybe not a million.

I use mine as a bounce reflector (white/silver/gold sides), A light blocking flag (black side) and as a shoot through diffuser for both flash and sunlight.

This one will fold up small enough to fit in a camera bag and from my experience small is good as if it's big and bulky I leave it at home.
UK Price £19.99 From Premier Inks
US Price $19.90 From Adorama
Disclaimer: the prices listed above are correct at time of publishing. They are for guidance only and may not be the best buy. You are advised to shop around to find the best price for each item.