Posted
January 3, 2017 by Gavin Hoey
in Articles
Making An Exhibition Of Myself
Earlier this year I got an email from Olympus asking if I'd like to hold an exhibition in their London "Project Space" gallery and to be honest my first thought was… thanks but no thanks. Now I know that will surprise a lot of people but I've always felt like my photos look OK but they're not exactly "art" packed with deep hidden meaning. So I didn't really commit either way to the offer and it sort of got lost over time.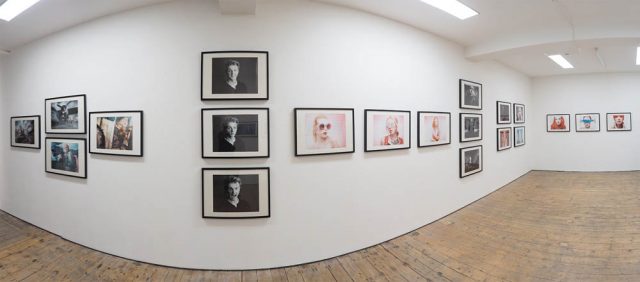 Jump forward a few months and I get another email from Olympus saying that if I want to do the exhibition they needed my final photos in just three days. The exhibition starts in just 7 days time!
As my wife pointed out, this is probably a once in a lifetime chance that I couldn't refuse, so I spent a day sorting through my photos, coming up with a theme and selecting the best 30-40 images for printing. Luckily Olympus were happy to handle the printing side of things and the gallery had the frames, so by the next morning my first and probably last exhibition was ready.
I've never hung an exhibition before but Serenella, the Art Bermondey Project Space  gallery manager, was amazingly helpful. We spent a few hours at the gallery looking at blank walls trying to figure out what to hang where but by the end of day the layout was done, all we needed were the big prints.
Letting someone else organise the printing was a major worry and sure enough things didn't quite go to plan with the first set. But a massive thank you has to go to Claire Voyle from Olympus who personally took charge of the printing of the final photos and made sure they reached the gallery on time.
The theme for my exhibition was that all the photos were taken as part of training or education events and that none of the photos had ever been printed before (I know, I know) so to walk into the gallery and see nearly 40 large prints of my work all in one place was really overwhelming for me.
I'd like to thank the many people who came along to the exhibition and the VIP preview night. I hope you enjoyed the work as much as I did.
The whole exhibition was planned, printed and put together in a little over a week, which as anyone who's done an exhibition will tell you, is an incredibly short time frame.
Would I do one again? Yes if I got the chance I would.
Would I do things differently? Without question. Putting the exhibition together was filled with huge highs and some lows but I learned so many things from it.
Would I recommend other photographers to hold an exhibition? I've learned exhibitions are not just for painters, sculptors and photographers who need to explain what you're looking at before you can appreciate what you're looking at. If you have a body of work that you love then why not share it.