Watercolour PSD template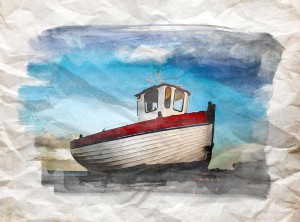 This weeks Friday Freebie is a spin off from an article I wrote for Digital Photo Magazine a while back in which I created a bunch of images which, when combined together, create a great watercolour effect. Well I've made things easy by creating one of my templates in PSD format and sharing it with everyone for free.
Full download instructions are below but you can also
Click Here To Watercolour PSD template
If you're wondering what a Photoshop PSD template is, then the answer is simple. It's a Photoshop file with all the layers intact allowing you to tweak the end result as you see fit. There's even a layer called "Your photo here" which is where your photo needs to be added.
With several layers and lots of fine textured detail, this weeks Friday Freebie PSD template comes in at around 81mb. If you're not on a fast internet connection if might take a few minutes to download.
As always, if you create a photo using the Friday Freebie then let me (and everyone else) know by leaving the link in the comments below.
Usage rules
The template is copyright Gavin Hoey 2013. Use is limited to any personal, non-commercial purposes. Please share the Friday Freebie by linking back to this page. Do not redistribute the original image/template without my permission.
Download instructions
Click the link https://drive.google.com/file/d/0B_Mmmm3K1utNMnJoVEtKeUxMVDA/view?usp=sharing
1. Click the Download button 

2. The download should start automatically
3. Save the template to your hard drive
4. Open in Photoshop or Photoshop Elements
5. Paste your photo BELOW the "Your Photo Here" layer
6. Hide or delete the the "Your Photo Here" layer
7. Use Free Transform (CTRL+T) to adjust the size of your photo
8. Adjust the Levels (CTRL+L)of the "paint" layer to change the look.