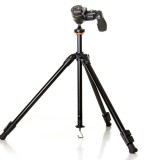 Vanguard Alta CA 233 AGH Tripod
Tripod follow one of the fundamental rules of life which is, the more you pay the longer it will last. Buy a cheepo tripod from the super market and you'll regret it almost the first time you use it but after that there's a sliding scale of returns. In other words you don't have to pay mega bucks to get your hands on something of quality and that's exactly the market that the all new Vanguard Alta CA 233 is aimed at.
What's in the box?
In this review I tested out the Alta CA 233 legs with the new GH-30 pistol grip head supplied as part of the kit. It all comes pre-assembled so you can just attach your camera and get shooting.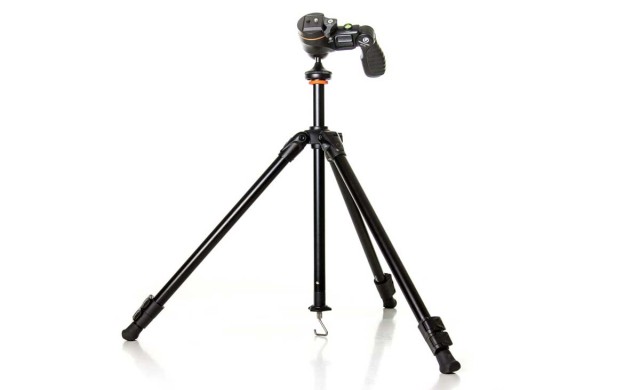 It's worth going through the user manual and warranty info because inside you'll find an Allen key and custom adjustment tool. Don't lose these as you will need them for routine maintenance. Also at the bottom of the box is a carrying bag, which although it isn't padded it will keep your shiny new tripod clean and safe.
Weighing in at 1.6kg and supporting a maximum of 5kg sounds good as does the maximum height of 156cm. Folded down it measures 63cm which about average in this class.
Performance
This tripod is aimed at the enthusiast rather than pros so there are some high end features missing but nothing that's going to stop you in your tracks. I'm going to deal with the legs and head separately even though they came as a kit.
The Alta CA 233 legs are made of Aluminium rather than carbon fibre, which saves a lot of cost but adds a bit of weight. Each leg has three sections and can be locked at any length with the quick flip locks. Personally I prefer this type of lock to the twist locks but I know landscape photographer find the flip locks can get snagged on long grass and bushes.
The thickest diameter of each leg is 23mm and they get smaller from there. That's nowhere near the thinnest I've seen on a tripod at this price point but it's about as thin as I'd want to go. Each leg can also lock at 20, 40. 60 and 80 degree angles for extra stability or some low level shots, with a bit of planning (see below for details).
The GH-30 is perhaps the strangest tripod head I've used in a while. At first glance it's a pistol grip head but press the button on the side and the pistol grip folds up and becomes a more traditional pan and tilt head.
Locking and unlocking the head is done by twisting a knob on the handle that by some miracle of modern design is both big and yet awkward all at the same time. As I got used to it, it became easier to use although it's nowhere near as convenient as the trigger release on something like the Vanguard GH-100 I reviewed last year.
The head also has a panorama plate and a quick release plate although it should be noted that the plate is unique to this range of heads. Once locked the head feels really solid in landscape format but moderate to heavy cameras and lenses need plenty of extra tightening  when turned into portrait format.
Downsides
For many photographers the first downside will be that the centre column can't be mounted at 90 degrees for over head shots. Enthusiasts might not be bothered by this as in my experience many photographer don't bother using that facility which can be really clunky on many tripods.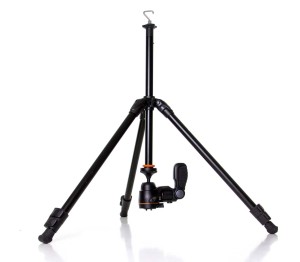 Want to go low? Then this probably isn't the tripod for you. The centre column plus head is 24" tall and no matter what angle you have the legs at, that's the lowest you're going to go. If you need to go lower the centre column comes out, can be broken in half and reattached upside down but it's a bit of a hassle and you'll need to be good at working your camera upside down! There's one other way to do it but it involves dismantling half the tripod, trust me it's not worth it!
Finally there's the head. I love pistol grips that allow you to work one handed but this one just didn't do it for me. Don't get me wrong it's perfectly fine especially if you mostly shoot in landscape format but flip it on its side and you'll need to do your vertical adjustments via the pano plate.
Conclusion
An enthusiast's tripod is always going to be a compromise and on the whole the downsides are small compared to the upsides. Brilliant build quality and a rough, tough design make this an excellent choice as your first proper tripod and will almost certainly last you a good deal longer than any camera it gets paired with.
Both the head and legs have a few quirks but I'm sure these are things that you'll become comfortable with after a few outings.
This is a brand new tripod and that's reflected in the current price. I'm sure it will fall over the coming months but at the moment it's a bit steep especially when you can find the Vanguard Alta Pro 263 range for about £25 more. If you can afford it, the Alta Pro 263 series is currently the better choice.