Grungy triptych template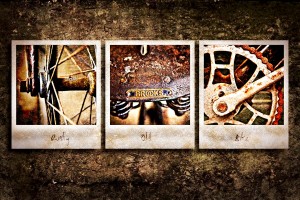 As you take more photos, you'll need to find more ways to display them. So todays Friday Freebie is a triptych template that uses up three of your photos in one go,
As you can see from the example here, the template has three spaces into which you'll need to add your own images. An alternative would be to use one image but break it into three pieces. Download instructions are below and once again I'm sharing the JPG file through my Adobe Creative Cloud page. No sign up is required to get a copy of the template so you're free to jump in and make your own triptych images.
Download the Grungy triptych template by clicking here
Download instructions
Click on the download link above to take you to my Adobe Creative Cloud download page (no sign up is needed)

1. Click the download icon
2. Choose "jpeg" format only.
3. Click the download button
4. Save the template to your hard drive
How to use the template
To add your own photo, first select and copy the photo you want to add. Then jump over to the template, Click inside one of the black squares with the magic wand tool and choose Edit – Paste Into (Edit – Paste Special – Paste Into in Photoshop CS5 & CS6)
You can then resize the photo before pressing enter to committing to the change.
Usage rules
Usual rules apply. The action is copyright Gavin Hoey 2013. You may use it for personal, non-commercial purposes only and please do not redistribute without permission. Thank you and enjoy