Posted
November 28, 2011 by Gavin Hoey
in Articles
Shutter Failure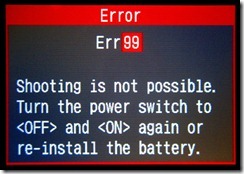 They say nothing lasts forever and so it is for my much loved Canon 40D. It's with much sadness that I have to report that my trusty war horse has taken it's last shot. Over the past 4 years my Canon 40D has been in my camera bag for every shoot I've been to, it's been the star in many of my photography videos and is my "go to" body when shooting sports.
So what's caused the sudden demise on my 40D? The shutter has failed which causes the dreaded error99 every time I press the shutter.
However even with it's last gasp the 40D didn't disgrace itself. It could have failed on a pro shoot or whilst I was on holiday, but luckily the failure occurred during a practise session in my studio.
According to Canon the shutter on a 40D is expected to last (on average) for 100 000 photos. Now I knew my 40D has taken a large number of photos but had it exceed 100K? No, not even close.
In fact Canon 40D shutter failed after 61800 actuations… I'm not impressed.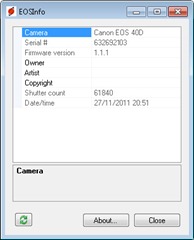 Is your number up?
So how many photos has your Canon taken? To find out you'll need to grab a free copy of EOSinfo from Astrojargon. Plug your Canon camera into your computer via the USB cable and switch it on.
Paste your shutter count in the comments below. Can anyone beat my count? I really hope so.
UPDATE: Further testing has shown all is not lost as I can still shoot in Live View mode. A repair is also possible but at around £250 with no guarantee that something else won't fail next week of course.