Posted
November 9, 2011 by Gavin Hoey
in Articles
Building a Photoshop Power PC – Part 2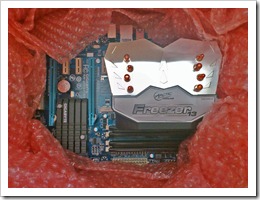 A few weeks ago I wrote Building a Photoshop Power PC – Part 1 in which I went through the rather enjoyable process of choosing components for my power PC. I used a couple of different companies to supply the parts for my PC which saved me money but cost me a bit of time as everything didn't arrive together.
The last thing to arrive was the most vital. I ordered my CPU, Motherboard and RAM as a complete bundle. The advantage of a bundle was it's made to order, overclocked to increase speed and tested before being dispatched. It arrived heavily wrapped in bubble wrap, which is always good to see and was ready to install and use.
Before launching myself into the unknown of my first ever build I armed myself with a little knowledge courtesy of an excellent how to build a PC video from new egg. It's a long one, but packed full of useful build tips.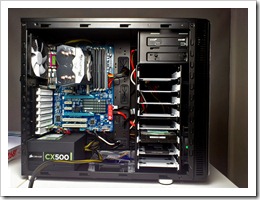 Despite my lack of experience at PC building, I completed the build without any problems in around 3 hours. The real star of the build was the Fractal R3 case which turned out to be a real boon when it came to keeping the masses of cables tidy. The R3 case has a 2 cm gap between the case and the back panel. It may not sound much, but it's just wide enough to hide cables and keeping cables out of the case gives better airflow, which in turn means a cooler PC.
So there you have it, a shiny new PC is built. Unfortunately building the PC isn't the end of the story. There's the small matter of installing an operating system, adding all the software I need to do my work and moving my files from my old PC to the new.
That's what I cover in Building a Photoshop Power PC – Part 3 (coming soon)