F-Stop Chart
Flash meters are super helpful for lots of reasons but to really get the most from them you also need to know your f stop aperture numbers. You might already know that you need one more stop of light to move from f/5.6 to f/8 but how good are your intermediate f stops. For example you want to shoot at f/8 but your flash meter tells you f/7.1 or even f5.6.8, how close are you to your target aperture?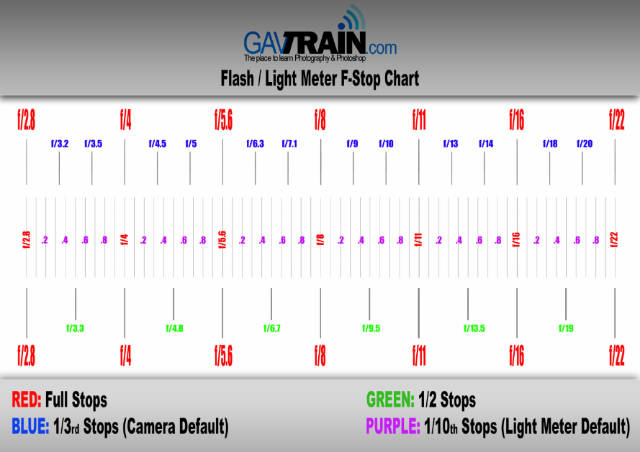 Learning the full stop scale is a must for any serious photographer and for me, so is learning the third stops too. Tenth stops is a bit more niche but many flash heads work in tenths. So to help you learn and as a quick reminder for me, I made an f-stop chart
Usage rules
The chart is copyright Gavin Hoey 2018. Use is limited to any personal but non-commercial purposes. Do not redistribute the original images without my permission.
Download instructions
       1. Click on the correct download link below (no sign up is needed)
        https://drive.google.com/file/d/12H6LrCVIgkA_R0PEKCTfZtlrd8rkh61s/view?usp=sharing
Click the Download button 
The download should start automatically