Posted
May 1, 2013 by Gavin Hoey
in Articles
Three reasons why you need a card reader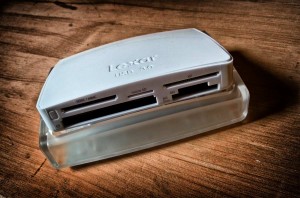 If you're still plugging your camera into your computer every time you want to get at your photos, you're not alone. I meet loads of photographers who don't own a card reader and even some who have never removed the card from their camera.
Card readers are cheap, convenient and utterly essential in my book. Still not convinced? Here are three great reasons to use one.
Speed
If you want to access your photos fast then a modern USB3 card reader can't be beaten as long as you have a spare USB3 socket to hand (it's usually blue coloured, if it helps identify it).
Even the more pedestrian USB2 readers will often out perform download speeds from many camera when pluging them directly in to your computer.
Convenience
Do you know where you put the little cable to hook up your camera to the PC? If the answer is yes then well done you. Like most people I have a habit of loosing cables on a regular basis espeically if it's a really, EALLY important one. Generally speaking a card reader remains attached to your computer or can even be built in, which makes it much tougher to loose!
Power
Using you camera as a card reader will mean turning it on, which is fine as long as your batteries are charged. Murphy's Law dictates that the day when you absolutely must get those photos off your camera the batteries are going to be flat and the charger  is no where to be found. No such problems exist with card readers as they draw thier power through the USB cable.
There are 100's of different USB readers on the market. I've used the Lexar brand for many years and can highly recomend them. A word to the wise, if your buying one for a modern SD card make sure it's compatble with your SDHC or SDXC format if that's what you have.