Posted
December 18, 2012 by Gavin Hoey
in Videos
Shooting textures in the landscape
What do you do when the thing you wanted to photograph has disappeared under water? Well that was the dilemma I faced a few weeks back when I went to the beach.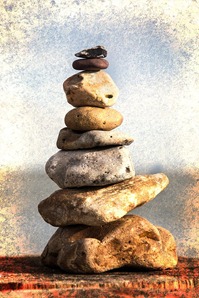 To make matters worse it wasn't a stunningly beautiful beach and the lighting was pretty flat and lifeless. However I wasn't going to go away empty handed so I created a photo from nothing.
First I did something I do a lot when I'm on a pebble beach, I grab some stones and started stacking. Photographing the pebbles was a simple enough affair but it needed something more and I thought the best thing to do was to add a background texture.
The beach may not have been a good spot for shooting amazing seascapes but with its collection of beach huts, it was the perfect place to bag a great selection of textures. In five minutes I had photographed textures from wood, paint, rusty metal and concrete.
All I had to do then was combine the photo together to create the final photo you see here. You can watch both the shoot and the post processing on the video below.
If you can't see the video click here
Gear used in the video (links back to Adorama, who sponsor all my videos)
Canon 60D
Canon 24-105mm L f/4 USM
Carry Speed Strap
Adobe Photoshop CS6