Posted
November 15, 2012 by Gavin Hoey
in Videos
Paint Splash Photography
I've photographed water drops on many occasions and I'm always amazed by the stunning images that something as hum drum as a drip of water can create. The only problem with water is it's transparent nature. That's fine if you want a dark background but a real problem if you're after a white background.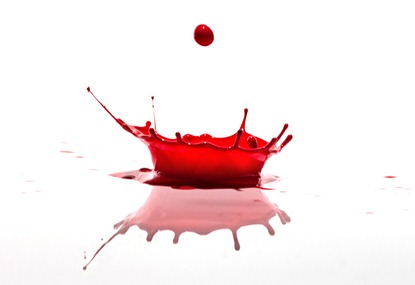 For a white background you'll need an opaque liquid to photograph and after a bit of trial and error I found the best thing to use was paint.
If you fancy having a go yourself, there's a couple of extra tips I can pass on as well as the video below.
Water and paint
The paint I used was a ready mixed water based paint that's made for children. That's important as it really does go everywhere, fortunately water based paints can be cleaned up with a damp cloth even when its dried. I also watered the paint down a lot. It was roughly 10 parts water to one part paint. That created big splashes but maintained the all important opaque property of the liquid.
Burst Mode
I used the camera's pop up flash to trigger the main flash. It worked well but I had to wait for the pop up to recycle before I could take the next shot. However if you have a set of Pocket Wizard radio triggers (or any other make for that matter) then you can shoot in continuous shooting or burst mode making bagging the perfect splash much MUCH easier.
Here's a list of the equipment I used in the video.
Canon 60D
Canon 70-300m USM
Light stand + Boom Arm
Canon 580 EX II Flash
Flash bracket
Canon Remote Switch
Manfrotto 190 pro Tripod
Adobe Photoshop CS6