Posted
September 4, 2012 by Gavin Hoey
in Videos
Photo Restoration ~ T+MGP 06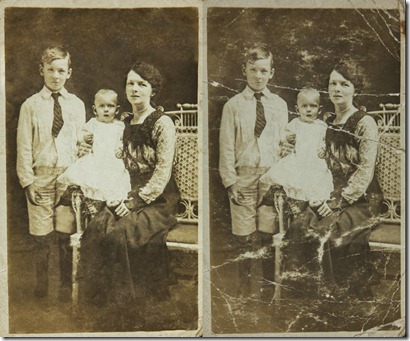 When it comes to restoring old and damaged photos a flatbed scanner isn't always the best option. Join me as I show you an easy two light setup that's prefect for copying old photos. As always I'll cover the Photoshop processing too 🙂
You might be wondering why I didn't just use a scanner to copy the photo. It's a good question that has many answers.
The first problem I have with using is a scanner is… I don't have one. OK that's not 100% true because I think I have one lurking at the back of a cupboard but it's not something I've need for a very long time.
Handy as a scanner is, a camera offers many advantages. It has a higher resolution, it shoots RAW I can set and control the lighting and finally if I have lots of photos to shoot, it's quicker to use this kind of set up.
You may also ask why I didn't use flash. Well there's no reason why I couldn't use flash and the end result would have been just as good. The reason I love continuous lighting for restoration is simply that I can see exactly what the end result will be before I take the photo.
Equipment used in the video:
Flashpoint two light kit http://www.adorama.com/LTO2S.html?KBID=67338
Canon 5D Mark II http://www.adorama.com/ICA5DM2.html?KBID=67338
Canon 24-105mm L f/4 IS http://www.adorama.com/CA24105AFU.html?KBID=67338
Manfrotto 055 Pro http://www.adorama.com/BG055XPROB.html?KBID=67338
The Photo itself was brought into the studio by a local resident who was compiling a family history. This photo forms part of her family tree. At nearly 100 years old the photo and the album it was glued into were very fragile so careful handling was the order of the day. I'd like to thank the family for allowing me to use the photo in this video.