Instant Extra Confetti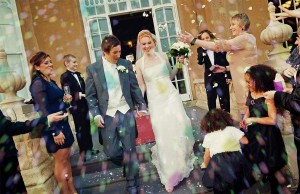 This weeks Friday Freebie is perfect for wedding photographers who are looking to enhance thier conffeti photos with a burst of extra confetti.
You can download the action here: Instant Confetti
The confetti shot at a wedding is a one off event, get it right and it can be a fanstatic photo but the combination of over eager wedding guests and restrictions on confetti throwing some venues impose can make it a challenging photo too.
The action makes three layers of coloured confetti with just one click. You can then dive in to the layers and change the colour saturation, the size of the confetti and erase any stay flakes that are in the wrong place for your photo.
The action will work with Photoshop CC, CS6, CS4, CS4, CS3.
If you create a great photo with my action then feel free to link to it by leaving a comment below.
Usage rules
The action is copyright Gavin Hoey 2013. Use is limited to any personal, non-commercial purposes. Please share the Friday Freebie by linking back to this page. Do not redistribute the original action without my permission.
Download instructions
The direct link to download the actions is https://www.gavtrain.com/free/instant-confetti-gavtrain.zip
No support is provided with the Friday Freebies. If you need help Google or YouTube the question and you'll almost certainly find the answer 🙂