My Gear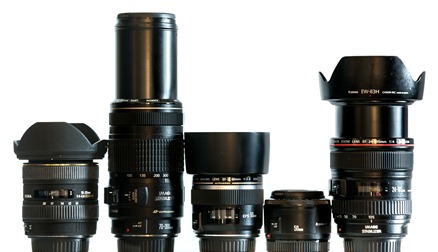 So you want to know what gear I'm using? Well you've come to the right place.
This is a list of all the gear I use on a regular basis. It doesn't include everything that I've ever bought or used it's simply a list of what I have a links to the Adorama.com website where you can find out more information.
Camera Bodies
Canon 5D Mark II
My main body which I use for all my pro work and the majority of my personal photography
Canon 600D / T3i / Kiss x5
Primarily used as a HD video camera I also use this body when I'm traveling light
Lenses
Canon 24-105mm L f/4 IS
If could only own own lens it would be this one. Fast focusing, quiet and very sharp it's a brilliant every day lens.
Canon 70-200mm L f/2.8 IS
It's big, it's heavy and it doesn't come cheap but the quality of the images have to be seen to be believed.
Canon 70-300mm f/4-5.6 IS USM
I'll use this lens when I don't need the big f/2.8 or when I need a little extra reach. Great quality too.
Canon 50mm f1/8 Mark II
The nickname "plastic fantastic" says it all. Light in weigh and small in size, this thing is almost always in my camera bag
Canon 60mm Macro EF-S
It may only fit on crop sensor bodies (like my 600d) but I love this little macro marvel
Sigma 10-20mm f/4-5.6 EX
I've owned this lens for years and it shows but I just love the 10mm (16mm equivalent) end of this lens.
Tripod
Manfrotto 055 Pro
My Manfrotto may be discontinued but the replacement 055 PRO model is a big improvement… good price too.
The 488 midi has been replaced by the 498 but the RC4 plate is still able to handle the heaviest lens/body combo I own
Speedlights
Canon 580 EX ii
I have two of these guys and they never let me down
Canon 430 EX
It's smaller lighter and produces a stop less light, but other then that it's perfect.
Canon ST-E2
It might look old and clunky (well it is) but it keeps eTTL with my speedlights and it works like a charm