Faded Circus Workshop
The faded circus is returning to town for one last time. It's a day not to be missed for anyone that loves shooting amazing portraits with creative themes. We'll be transforming a studio into a mini circus with a range of props and themes. I'll be joined by fellow professional photographer Tommy Reynolds and two great models. You'll get to work with both photographers and both models during the day, so you can expect to go home with a great collection of varied images.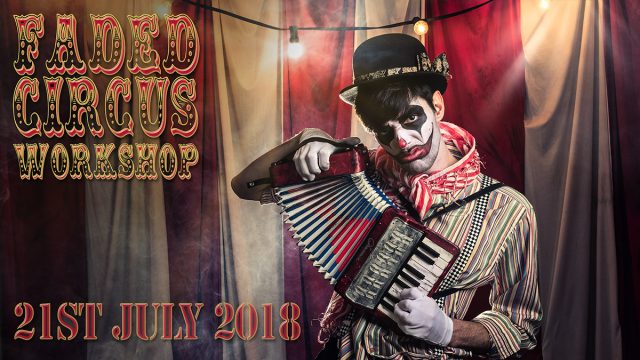 The venue for our pop-up circus is Square 1 Studio, near Dorking, Surrey. Our two models (one male, one female) will each have different looks and these will change over the lunch break. You'll be photographing a Ringmaster and Showgirl, Fortune Teller and a Clown.
But this is the faded circus, so don't expect it to be all bright lights, clean looks and big smiles. The heydays of this circus are long past!
The Workshop will include…

Shoot with male and female models
Two photography experts to help you get the shots
Maximum of 6 photographers per model

This workshop is subject to our Terms and Conditions

Places Available – There will be a maximum of 12 spaces available per date
Location –Square 1 Studio, Leigh, Surrey  
Duration – Approximately 6-7 Hours including a lunch break (10am Start Time)
Other Information – This group shoot workshop is best suited to photographers with an interest in portrait photography and are looking to hone their skills or add to their portfolio. Smoke machines are used during this workshop.
More information – please Contact us stating your interested in the The Faded Circus Workshop
F.A.Q.'s about this workshop.
Before you decide on to book take a look at the questions and answers below to help give you a little bit more of an insight into what to expect.
Who will be running the workshop?
Gavin Hoey will be leading the workshops and will be assisted by Tommy Reynolds
Where is the worksop?
The workshop is located at Square 1 Studio, Leigh, Surrey and has plenty of on site parking. The studio is 12 minutes away from Dorking Station, M25 junction 8 is 9 miles away. Full directions will be sent out the week before the event.
Is this an educational workshop?
Not really. The primary goal of the workshop is to get everyone taking home some great photos. This isn't a masterclass where you stand around watching and it's not a training workshop for beginners. Both Gavin and Tommy will be on hand to answer any questions, give guidance and advice but you'll also be expected to chip in with your own ideas.
What style of photography will be covered?
This is a portrait workshop with a range of styles from classic location portraits, through to conceptual portrait photography
NOTE: It will not include any glamour, lingerie or fine art nude.
Who are the models for this shoot?
There will be two models on this shoot, each changing their look over the lunch break. Both Beth Smith and Brian Mansi are set to be our models for both workshops dates. Please be aware that the model line up may be subject to change due to circumstances beyond our control.
Will I get one to one time with the models?
You'll be working in groups of up to six photographers so there'll be plenty of time for everyone to get a turn at assisting and shooting. Shooting sessions last around an hour after which you'll swap over to the other model. You'll get to work with each model twice, once in the morning and once in the afternoon.
Will I get a fixed shooting slot?
We will NOT be dividing the sessions into slots. You're free to shoot when you like but you will be expected to share nicely with your fellow photographers.
Is this a flash or natural light workshop?
It's primarily a flash based workshop. We will have flash gear on hand (no need to bring your own) and we'll help where needed. If weather permits we may also work outside where ambient light shooting is also possible.
What time does the workshop start?
We suggest arriving at around 9:45 for a 10.00 start.
Is the workshop suitable for those with disabilities?
We'll do all we can to accommodate everyone's needs. Small steps may be unavoidable but otherwise the studio has excellent access for all.
Is the workshop weather dependent?
This is an undercover workshop, so the UK weather shouldn't interfere. The studio space is large so can be chilly on cold days and hot on warm days. We might also be shooting in a barn, which is outside but undercover. We reserve the right to cancel the workshop at short notice should something bizarre happen with the weather but it's highly unlikely.
Are refreshments included?
Tea, coffee and water will be available and if you're really lucky there may even be some of Sam's legendary home made cakes or biscuits for you to enjoy. You'll need to bring you're own lunch as there aren't any restaurants in the near vicinity.
What will I need to bring?
For this workshop a Digital SLR (or mirrorless equivalent) camera and a standard zoom lens (e.g 24-70mm) is ideal.
Wide angle lenses (e.g. 12 – 20mm) work really well for creative shots and longer lenses (e.g. 70-200mm) are worth bringing if you have them. If you're unsure about bringing a particular lens please ask but our advice is generally the same… If you don't mind carrying it, bring it!
Flash lighting and radio triggers will be provided by us, so you can leave yours at home but if you own flash meter and are comfortable using it, bring it along.
You should also bring suitable clothing for the weather and don't forget your lunch.
Does the make of camera matter?
Not really. Radio flash triggers will be used during the workshop, so as long as your camera has a standard hotshoe you'll be fine. Cameras from Olympus, Canon, Nikon, Pentax and Panasonic will be just fine, however some SONY owners will need to bring their own adapter to convert the older Minolta/Sony hotshoe to a standard hotshoe. If in doubt, please ask in advance.
Can I contact you?
Of course. Please use the contact form here and start you message with Faded Circus Workshop
Can you recommend somewhere to stay?
We have many photographer who travel very long distances to be with us. Being so close to Gatwick airport means there's no shortage of places to stay and a wide variety of prices to choose from. If you would like to include an overnight stay with your visit please take a look at the excellent information provided by Trip Advisor. London: Gatwick Hotels or one of the many hotel search websites
Do you have any tips to get the most from the workshop?
Tip 1: Make sure you bring plenty of spare memory cards and fully charged batteries
Tip 2: Don't buy a new piece of equipment just to attend the course, you may not need it.
Tip 3: Don't panic if you get held up. Just give a call (details will be sent closer to the workshop date) and let us know.
Tip 4: Don't expect every shot to be perfect. The workshop is all about experimenting and that means making mistakes
Tip 5: Get involved. Taking photos is what it's all about but you can also learn a lot by helping your fellow photographer too.