Instant Triptych – ACTION SET
Triptych is a set of four Photoshop actions which takes your photo and splits it into three panels with one click of the mouse. There are a total of 79 individual actions which create 20 different styles of triptych (19 on portrait images) in 4 different ways.

You can start with either a Landscape format or portrait format image. You can even create a high resolution blank triptych in both landscape and square formats which are perfect for adding three different photos in each panel.

Instant Download. Once through the checkout, you'll be offered the chance to download the action set. Don't worry if you can't download now, you'll also receive an email with the action pack attached.
Almost every triptych effect is available in 4 ways
Landscape, Portrait, Blank & Blank Square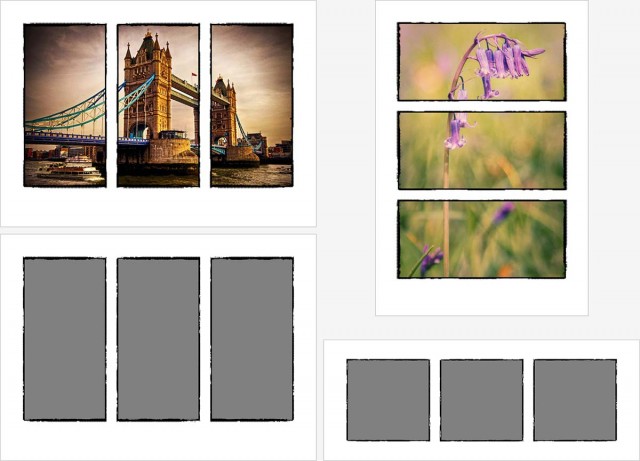 Got a question? Checkout the FAQ section at the bottom of this page

All actions are compatible with: Photoshop CC, CS6, CS5, CS4 & CS3 (Not suitable for Elements)
Examples of the 20 styles. Click on a thumbnail to enlarge
Need help installing the actions? This video might help.
FAQ's
Can I put the actions on more then one computer? The licence is for one user, so yes you can as long as YOU are the person using the actions.
Can I buy just one or two of the actions rather then the whole set? Sorry, they only came as a set
Will the actions work in Elements? No. Some of these actions use things that are not inside of Photoshop Elements
Are the actions going to overwrite my original image? No. These actions apply the effect only to a copy of your image and never the original. That said it's always a good idea to save your work before running the actions.
Do I need a powerful computer to run these actions? All the actions will work just fine on any computer, but some of the actions use a lot of steps which can take a several minutes to run, so please be patient.
What size images will they work on? In theory the actions will work on any sized image, but the best results will be seen on images that are between 2000-5000 pixels on the longest edge. Basically the bigger the image (number of pixels) the smaller the effect will appear.
Are they're any options or controls I need to set? No. All the actions require just one click on the play button. You can then sit back and watch the triptych being made.
I'd like to adjust the finished triptych, is that possible? Yes you can. After the action has run you'll have access to all the layers which make up the effect. These can be adjusted as you see fit.
Can I resell or pass on the actions? No that is strictly forbidden. As is tweaking the action steps and then passing them off as your own
Do you offer a help or advice on how to use the actions? We don't offer email or phone support but we do have an information page with 20 minutes worth of video advice for everything from installing the actions to adapting the end result. https://www.gavtrain.com/?page_id=3055